Network:

Netflix

Series Premiere Date:

Jan 13, 2017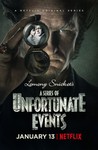 Starring:

K. Todd Freeman

,

Patrick Warburton

,

Neil Patrick Harris

Summary:

Violet (Malina Weissman), Klaus (Louis Hynes), and Sunny Baudelaire seek to solve the mystery of the death of their parents and foil Count Olaf's (Neil Patrick Harris) schemes to take their inheritance in this Netflix adaptation of the books by Lemony Snicket.

Genre(s):

Comedy

,

Drama

,

Kids
Season 1 premiere date:

Jan 13, 2017

Episode Length:

50
This is not just whistling Dixie. Although basically comic, and not without moments of beauty and relief, the series is a dream in which you escape one trap only to fall into another, elude your pursuer only to find him somehow before you, and where hope springs eternal only so it can be eternally snatched away. But you should watch it, anyway, and take your time.

The always imperiled, always plucky Baudelaire children are well cast, and everything works to create a resonant saga about heroism in a world made mad and near meaningless by adult mismanagement. [13 Jan 2017, p.56]

Somehow both literate and ludicrous, the fractured fable of the imperiled but resourceful Baudelaire children finds wit amid the weirdly grotesque. [16-29 Jan 2017, p.17]

While adult non-fans might find themselves out-quirked and frankly exhausted by the show's tone, it's deeply Snicket-y, unapologetically dark, and a fresh yet familiar adaptation that should charm grown fans and childhood bingers alike.

The whole enterprise is wrapped in a big-budget look and served with a respect for the ability of young minds to perceive offbeat, incongruous humor, the very quality that made the books so successful in the first place.

Netflix does Snicket right with their take on A Series of Unfortunate Events. Cheeky, confident and vigorous in its design, and aided by highly enjoyable supporting turns from Joan Cusack, K. Todd Freeman and Aasif Mandvi, it's a rightly impressive, frequently fun screen adaptation.

Book readers will undoubtedly find things to love in the twisting Gothic sets (thank you, Netflix's generous budget!), its clear affection for the source material, and the generous runtime a movie adaptation could never allow. From the outside looking in, though, unraveling Lemony Snicket's many strange-for-the-sake-of-it twists and scattershot storytelling feels like more trouble than it's worth.
An absolute joy to watch, each book is given 2 hour long episodes (actual hour long, not 40 mins + adverts) and they really require that

An absolute joy to watch, each book is given 2 hour long episodes (actual hour long, not 40 mins + adverts) and they really require that amount of time given the content which is on offer here.

One thing to note is that this isn't the type of show you should half watch, there is just so much going on in every scene in every minute of viewing that you should really put down the mobile phones and other distractions and just get lost in the fantastic stories which are being offered up by this Netflix original.

I should say there was just one downside to this whole 8 episode experience for me... I almost felt bad as I watched it that I was just paying €9.99 per month to the service that Netflix offers, honestly this level of content they are creating deserves more cash when you compare it to things like the national broadcast fee in Ireland which offers so little for so much more than Netflix costs per annum, it's just insane.

Also NPH is a God in this, just.. in every way.

…

Expand

I've been a longtime fan of A Serie de Unfortunate Events. For those of you who read all the 13 books and saw the movie that debuted in 2004,

I've been a longtime fan of A Serie de Unfortunate Events. For those of you who read all the 13 books and saw the movie that debuted in 2004, you know how the way it was done is a bit run down and does not really value books. When the news that NETFLIX had ordered a full season came up I then got excited and marathoned all the episodes 2 times, I have to say how amazing is the material I saw. Launched for so long the series of books still keeps current and with the tv series we only see how the books hit the world view. It may seem fancy to the way things happen, but it's quite real. The workers of the Lucky Smells Lumber Mill who are happy with chewing gum and coupons are not so different from the workers we find around. Those reporters who always distort the news and the people who blindly believe in them without checking the facts exist in the mountains. People who always doubt kids and teens and never listen to them, are there too, and it's more common than it seems. But speaking of terms of quality the series is very incredible, full of easter eggs, has until tribute to Birdman in episode 2. The photography and the production design were very good indeed.The direction of the episodes was very satisfactory as the orginal score . The performance also far surpassed the expectations I had. The exclusive TV plot also made me very happy. Maybe the only complaint I have is about Aunt Josephine whom I personally found the best in Maryl Streep's skin. In general I recommend everyone to see and read the books.

…

Expand

This show wont be everyone. I read all these books when I was younger. The show is extremely faithful to the tone. Some people might miss the

This show wont be everyone. I read all these books when I was younger. The show is extremely faithful to the tone. Some people might miss the jokes as they are distracted by the extensive sets and over the top characters. However, for anyone that is a fan of the series this is a home run. Nailed it.

…

Expand

The story telling for each episode is outstanding, although i was expecting to be a bit funnier than it actually is, it's still makes you feel

The story telling for each episode is outstanding, although i was expecting to be a bit funnier than it actually is, it's still makes you feel happy, sad and really looking for answers and wanting more, all of that whilst teaching you proper English and literature, it was a great season.

…

Expand

As a huge fan of the books, it's a rocky first season. I never found myself disliking it, but it dives into the secret society aspect of the

As a huge fan of the books, it's a rocky first season. I never found myself disliking it, but it dives into the secret society aspect of the series far too early for my tastes. While Count Olaf was always a silly character, the tone of the show rarely acknowledges his menacing side - even when he does menacing things. Part of what made the books so great was the juxtaposition of horrible misfortune and humor. While the show definitely has the humor, the misfortune rarely feels as heavy as it ideally should.

Such said, my aforementioned issues largely pertain to the first six episodes. Episode 7 drops a much welcome bombshell, and from there the conflicts and danger suddenly felt more heavy. I only watched that far because of my love for the books, and I must say they really brought it together favorably in the end. Again, it's a rocky first season, but those final two episodes give me hope for a truly great and unfortunate second season.

…

Expand

Reminded me of the Addams Family movies. I wondered why so I went online and realized it's the same director. It does have its funny

Reminded me of the Addams Family movies. I wondered why so I went online and realized it's the same director. It does have its funny moments, mostly courtesy of Harris, and it does look good. But at least for me I kept having the feeling that I'd seen it all before.

…

Expand

Visualmente, muito infantilizada, criou expectativas mas no fim é bastante decepcionante. O filme ainda é de longe muito melhor, e mantém uma

Visualmente, muito infantilizada, criou expectativas mas no fim é bastante decepcionante. O filme ainda é de longe muito melhor, e mantém uma essência mais cativante da história.

…

Expand