Network:

HBO

Series Premiere Date:

Oct 21, 2013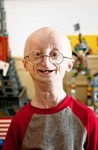 Summary:

The documentary from Sean Fine and Andrea Nix Fine follows Drs. Leslie Gordon and Scott Berns as they seek a cure for their son Sam, who suffers from progeria, a genetic disease that causes premature aging.

Genre(s):

Documentary
Show Type:

TV Movie

Season 1 premiere date:

Oct 21, 2013
Absorbing and deeply inspiring.... The film ably transitions to and from its parallel stories of uplift and defeat.

It was impossible to imagine anything like the gripping power of Life According to Sam.... Not long into the film, it becomes difficult to look at anyone but Sam--who has by sheer force of his intelligence, his unmistakable assurance, become a magnetic presence.

As impressive as Sam is--a teenager trapped inside an old man's body who never seems bothered by his circumstances--when the documentary focuses on his mother, it easy to see where he gets it from.

Without Sam, this might still have been a pretty good film about how modern science works (and sometimes doesn't), and filmmakers Sean and Andrea Nix Fine, who won an Oscar this year for their short film "Inocente," do a fine job of finding the drama in a process that's not always inherently dramatic.
What a remarkable boy that Sam Berns was.

Life According to Sam tells the story about Sam Berns when he had progeria, a progressive agingWhat a remarkable boy that Sam Berns was.

Life According to Sam tells the story about Sam Berns when he had progeria, a progressive aging disorder so rare that fewer than 250 children in the world had it at the time. Little was known about the disease, and all children with progeria died of heart attack or stroke at an average age of 13. Told there was no treatment or cure, they refused to accept that as the final verdict.

Now normally I'm not such a big fan of documentary's but a couple of times I will find a interesting and enjoyable one time to time, but I don't really watch that much Documentary's. But what really got me interested in Life According to Sam is the fact when Sam Berns sadly passed away in January 2014 and I heard nothing but great and inspiring things from this kid and a Documentary about him made me inserted to know more from Sam and boy dose this Documentary do it well.

I won't lie but this movie or Documentary if you like to call almost brought me into little tears, yeah I know it's not very manly to admit cracking up in a couple of scenes but since I've always got to be honest when it comes to movie I won't lie that this only most brought me into tears.

Sean Fine and Andrea Nix did a excellent job directing this Documentary with much care and effort that made this more effective to me.

For problems I didn't really have any to be honest. And the reason why I'm not going to give it 5/5 start's is because it's great but not on the level of oh my god this is amazing 5/5 star's, but it's still good without a doubt and if you had the chance to watch this then go ahead it may not be a easy watch sometimes but it's still worth checking.

…

Expand

This is a fantastic and moving documentary.
It is shown through Sam's perspective so it is an unique look to people with progeria.
Sam wasThis is a fantastic and moving documentary.
It is shown through Sam's perspective so it is an unique look to people with progeria.
Sam was an incredibly smart and mature person and was living his difficult life in such a fascinating and inspiring way, being always very positive and rational.
Too bad this isn't popular - it deserves to be watched by everybody.

…

Collapse