Network:

Netflix

Series Premiere Date:

Feb 6, 2012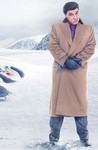 Starring:

Steve Van Zandt

,

Anne Krigsvoll

,

Kyrre Hellum

Summary:

Streamed exclusively on Netflix, the Norwegian black comedy series is about a New York mobster (Steven Van Zandt) who moves to Lillehammer, Norway, under the witness protection program.

Genre(s):

Drama
Season 1 premiere date:

Feb 6, 2012

Episode Length:

30
I wouldn't say Lilyhammer is worth signing up for Netflix to see, but if you're already paying for it and you like Van Zandt--and Norwegian knits--it's certainly worth a look.

The Norwegians are the foreigners here, and Norway the foreign land. But that remoteness is part of the show's appeal.

Lilyhammer splits the difference between lightness and the dark. [17 Feb 2012, p.63]

It tries to combine elements of American mob stories and Scandinavian mysteries, seasoned with frequent overt references to "The Sopranos," but the mixture is pretty flat in the first episode.
For the most watched show on TV in Norwegian history, Lilyhammer has terrific writing and a gorgeous cast which is pleasantly Juxtaposed by

For the most watched show on TV in Norwegian history, Lilyhammer has terrific writing and a gorgeous cast which is pleasantly Juxtaposed by Van Zandts mafioso character. I really enjoyed the fresh idea and hope to see more great original entertainment from netflix in the future.

…

Expand

A must watch for anyone who's seen The Sopranos! It's basically Silvio Dante in Norway. Steven Van Zandt deserves an Emmy for his performance

A must watch for anyone who's seen The Sopranos! It's basically Silvio Dante in Norway. Steven Van Zandt deserves an Emmy for his performance in this show.

…

Expand

This review contains spoilers

, click expand to view

.

Love Van Zandts take on Norway. He moves there as his choice for witness protection and it takes off from there. I would prefer that the characters speak english.

…

Expand

Steven Van Zandt has created a gem here. Say hello to Lilyhammer, say goodbye to Sopranos! The cross-cultural comedic parts mixed with great

Steven Van Zandt has created a gem here. Say hello to Lilyhammer, say goodbye to Sopranos! The cross-cultural comedic parts mixed with great writing and story lines become a new form of the somewhat worn-out NY mobster media. Van Zandt shows real emotions and a complex character that surprises the viewer with sometimes touching moments... mixed with the occasional "fix-it" job in between. All in all, everyone who's anyone should be watching the show!

…

Expand

The series gets funnier with each episode. Steve Van Zandt is hilarious. The nods to other mob series and movies adds to the in joke and

The series gets funnier with each episode. Steve Van Zandt is hilarious. The nods to other mob series and movies adds to the in joke and soundtrack that only Van Zandt as "underground garage" DJ could provide.

…

Expand

Lilyhammer is such a unique show. There's really nothing like it. It is what it is, and it's pretty fantastic. Each episode you sit there

Lilyhammer is such a unique show. There's really nothing like it. It is what it is, and it's pretty fantastic. Each episode you sit there thinking, I can't believe this show really exists. If you've never heard of it, Lilyhammer is a Netflix original series currently with 3 outstanding seasons. Its about a New York Mobster (the really cliche kind) who relocates to Lilyhammer Norway (Where the 1984 olympics were held) as part of WItsec. Here, he tries to blend in as best he can with the peaceful, somewhat dim locals. The show is about Johnny starting a new empire in Norway and turning the quaint town of Lilyhammer into his kingdom, New York Style. Its extremely witty, fun, and has fantastic character writing. Highly recommended.

…

Expand

I'm baffled by any positive reviews of this show. I got through 2 episodes. I think it's the stupidest thing I've seen in a decade. Did he

I'm baffled by any positive reviews of this show. I got through 2 episodes. I think it's the stupidest thing I've seen in a decade. Did he learn the language on the flight over? Is there really a woman on planet earth attracted to this guy? Is this supposed to be funny? Seriously, are you people watching a different show than I did? This is horrible.

…

Expand