Network:

Lifetime

Series Premiere Date:

Jan 25, 2014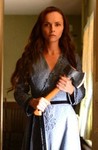 Summary:

The infamous murder trial of Lizzie Borden (Christina Ricci) for the killing of her father and stepmother in 1892 is dramatized in this TV movie.

Genre(s):

Drama

,

Movie/Mini-Series
Show Type:

TV Movie

Season 1 premiere date:

Jan 25, 2014

Episode Length:

120

Air Time:

12:00 AM
Lizzie Borden takes an ax to many assumptions--including the one that Lifetime movies aren't worth watching.

Sometimes slasher flick, sometimes courtroom drama, this Lizzie is a cynically dark, shamefully fun account of an all-American crime.

Christina Ricci does a haunting turn as notorious hatchet swinger Lizzie Borden.

Oddly constructed, Lifetime's latest attempt to produce TV movies with more edge isn't exactly razor-sharp, but strictly based on its camp factor, Lizzie should get the job done.

It's just a period horror story starring Wednesday Addams as the high-strung monster from the playground jumping-rope rhyme, with costumes and furnishings (and a general lack of extras) that suggest a high-school play.

The movie itself apparently isn't sure the murders themselves are lurid enough. So it adds a few things that didn't happen, plus some 21st-century music.

An utterly pedestrian docudrama that never lives up to its campy billing.
Pretty much a standard documentary, but an interesting one. It provides a good background story on the pre-murder Borden family. Two modern

Pretty much a standard documentary, but an interesting one. It provides a good background story on the pre-murder Borden family. Two modern day detectives then use scientific forensic methods to re-examine the murder and the family circumstances and relationships coming to some conclusions which I had never heard before. The title sounds like sensational junk but it is actually an intelligent and informative show.

…

Expand

boredom. Was looking for more real horror drama, not this. I couldn't make it through more than 20 minutes without stepping away and coming

boredom. Was looking for more real horror drama, not this. I couldn't make it through more than 20 minutes without stepping away and coming back later. I learned a whole lot more and had way more fun when I visited her museum and her house.

…

Expand

its great casting and light on the incest but other than that it was annoying that someone said "shes pretty she couldn't possibly have

its great casting and light on the incest but other than that it was annoying that someone said "shes pretty she couldn't possibly have committed a crime" ......making it the most annoying thing over the "commoners have always been ugly" line from Desolation of Smaug

…

Expand