Network:

HBO

Series Premiere Date:

Jan 19, 2014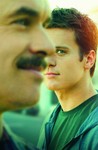 Starring:

Jonathan Groff

,

Murray Bartlett

,

Frankie J. Alvarez

Summary:

Patrick (Jonathan Groff), Agustín (Frankie J. Alvarez), and Dom (Murray Bartlett) are gay friends in San Francisco trying to figure out life and relationships.

Genre(s):

Comedy

,

Drama
Creator:

Michael Lannan

Season 1 premiere date:

Jan 19, 2014

Episode Length:

30
With its strong performances, subtle details and believable situations, Looking presents a convincing portrayal of everyday life--either gay or straight.

Looking isn't a comedy, but it's much bouncier on its feet. Not slap-happy, but comfortable in its own skin as the three principals.

There's a nice balance of humor (Groff in particular gets to milk the comedy) and emotional drama coursing through it (like Girls, which makes a fine pair for it on Sundays).

Looking doesn't make the mistake of arguing that gay men are just like straight women, or straight men, or gay women, or even each other. Instead it tells the story of three guys who are friends in a strangely wonderful and difficult time and what that looks like. To them.

The performances are nuanced and subtle.... Bakula's presence and air of experience add weight and depth to a show that occasionally seems too slight for its ambitions.

Looking is a good show. It will reward viewers who can hang on beyond the first episode and can adapt to its much slower pace and more naturalistic shooting style..... But, Looking will make you work to get there.

Looking isn't just disappointing, it's infuriating. Looking offers one hopelessly out-of-date idea about gay life after another.... All of that said, Looking is still a unique moment in gay television.
I was skeptical at the first episode but as the season progresses I find myself more and more attached to the characters and their stories.

I was skeptical at the first episode but as the season progresses I find myself more and more attached to the characters and their stories. It's nice to see these people living normal lives and I love that it is set in San Francisco. The only issue I have with the show is that app Grindr is pushed throughout the show, not every gay man uses that app and finds it disgusting. Other than that, the show is very well done.

…

Expand

Complicated and clear, realistic and dreamy, entertaining and edgy at the same time, shows everyday life of a group of gay friends living in

Complicated and clear, realistic and dreamy, entertaining and edgy at the same time, shows everyday life of a group of gay friends living in San Francisco.The first episode is a promise to its viewers, promising that the show will get even better and better with its good acting (especially Jonathan Groff as a gay man with problems) and well-done writing.I will be watching and I want that promise to be kept.

…

Expand

Couldn't believe the authenticity and delicacy of this show. This is the type of television that can save lives. Bravo to the people

Couldn't believe the authenticity and delicacy of this show. This is the type of television that can save lives. Bravo to the people involved. Can't wait to watch more.

…

Expand

This really captures a period of time in SF like nothing else on screen. Nothing hugely dramatic happens but it represents life and looking

This really captures a period of time in SF like nothing else on screen. Nothing hugely dramatic happens but it represents life and looking for love in a mostly realistic way. Look forward to next season. I do think this series would work a lot better as one hour episodes.

…

Expand

What Looking has going for it is the fantastic cinematography and art direction. What works against it is its cliched portrayal of gay culture

What Looking has going for it is the fantastic cinematography and art direction. What works against it is its cliched portrayal of gay culture in San Fransisco. However, given that sexuality is a central theme of the show, I expect these cliches to soften as the show settles down.

…

Expand

When I first viewed "Looking's" first 2 episodes, I was extremely disappointed by its lack of plot and seemingly cliché characters. However,

When I first viewed "Looking's" first 2 episodes, I was extremely disappointed by its lack of plot and seemingly cliché characters. However, I must say that by its third episode, the show found its footing. There is still no plot to talk about, but the characters are now developing into fully realized men, and their interactions with each other ARE the plot. Once I understood that, the show became a lot more accessible, and I learned to appreciate its style. I still believe the show needs a little bit more of a pulse to reach the greatness that it could become, but for now I recommend giving the show a second try (skip the first 2 episodes because they suck). If you do, you will see some of the most frank and intimate conversations about gay life ever portrayed on screen. It's just too bad the pacing almost killed the show for me.

…

Expand

this should not even be on hbo . its terrible, weird , distrubing . Burn in hell Creator Micheal Lannan . Grade

this should not even be on hbo . its terrible, weird , distrubing . Burn in hell Creator Micheal Lannan . Grade F-......................................................................

…

Expand