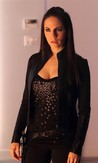 Starring:

Kristen Holden-Reid

,

Zoie Palmer

,

Anna Silk

Summary:

Originally aired in Canada in 2010, Bo (Anna Silk) learns she is not human but Fae, specifically a succubus. With the help of new friend Kenzi (Ksenia Solo) and homicide detective Dyson (Kris Holden-Reed), she seeks more information about her Fae birth parents.

Genre(s):

Drama

,

Fantasy

,

Suspense
Please enter your birth date to watch this video:
You are not allowed to view this material at this time.
What a light, yet satisfying treat this show turned out to be.

It's not exactly groundbreaking TV, but it's fun, sexy and filled with "Degrassi" alums--easy to watch and incredibly addictive.

With a witty script by series creator Michelle Lovretta, Lost Girl mixes mystery-of-the-week plots and character stories with an overarching mythology in a way that's palatable for fans of serialized and procedural dramas.

The mythology is intriguing and so are the characters, who are as full of witty one-liners as their closets are bursting with black leather.

It's a respectable addition to their genre menu, if not likely to become many people's fae-vorite.

Structural laziness detracts from what's good about Lost Girl, its witty dialogue and evolving relationships among Bo and her new friends.

It offers the minor pleasures of formulaic fantasy and weekly puzzle solving, though in a cheaper-looking and less original package than usual.
This is one of the best TV shows I've ever seen. I don't have cable so I only recently found out about it thanks to Netflix. People like me

This is one of the best TV shows I've ever seen. I don't have cable so I only recently found out about it thanks to Netflix. People like me prefer intelligent, creative, and original shows such as Lost Girl. It involves modern topics and is very open about sexuality which our society needs more exposure to. The characters are engaging portrayed by excellent actors and they quickly grab a hold of your heart. I was disappointed to learn there would not be a sixth season but enjoyed watching all five seasons on Netflix. Each episode engaged my attention and I eagerly awaited the next episode to find out what happened. The relationships between the characters were very realistic and handled with maturity. I loved the lack of drama between the characters as they all grew in depth and grew to love each other. It was refreshing to see the focus be on love and doing the right thing as opposed to what is usually found on TV....drama...lots and lots of drama and immaturity. These characters struggled with their integrity and showed their humanness through their strengths and weaknesses while choosing to do what was right. They showed it's not easy to do what's right but the rewards are priceless. I love this show, wish there were more seasons and more shows like this one.

…

Expand

I'm a big fan of Scy Fantasy since the days of Poltergeist: The Legacy to the Buffy Era and on. In any areas of the entire Lost Girl Series,

I'm a big fan of Scy Fantasy since the days of Poltergeist: The Legacy to the Buffy Era and on. In any areas of the entire Lost Girl Series, any new myths/ fables had become very interesting to me. I started watching the series on Netflix, and now Im hooked. I must say, each episode has left me hanging with more interest, returning for the next. I look forward to each episode as well as any opportunity to see the cast members attendance at local venues.

…

Expand

Smart and funny show with the biggest heart.

This show is about the characters and i have to say it has an amazing cast and they have funSmart and funny show with the biggest heart.

This show is about the characters and i have to say it has an amazing cast and they have fun making this and it really comes through. It deserves least a 9 because it achieves what it tries to, which is to have a good story with characters you love.

…

Expand

The nickname for this show in my house is BOOBs with knives. If you want soft core cable porn with action scenes look no further. Past that

The nickname for this show in my house is BOOBs with knives. If you want soft core cable porn with action scenes look no further. Past that its a great world and a great idea that suffers from mediocre writing and the requirement that all the main characters be so pretty they couldn't get ones that could act well. When I do watch this show I find myself enjoying the sidekicks far more then the main characters.

…

Expand

What started out as a fun, humorous and oftentimes cool show with mythology and lore as gotten worse and worse to the point where you watch it

What started out as a fun, humorous and oftentimes cool show with mythology and lore as gotten worse and worse to the point where you watch it thinking, "Why......" Just ... why?!

The show has a budget of 500 dollars and throws lame jokes at you every second they can. The plots get less and less innovative each week until its nauseating. The First Season was pretty decent, and the second alright. But don't bother watching it after then.

…

Expand

I have made it all the way to season 3, but is still a bit of a struggle, I find myself losing interest or skipping through scene's and when I

I have made it all the way to season 3, but is still a bit of a struggle, I find myself losing interest or skipping through scene's and when I do, I can see I haven't missed much.
It is very same same, dark fae, light fae, I don't really see the difference. I found the only episode to be any different was when Bo was in Prison for a short time, because it felt like they were doing something different as the series was progressing outside the bar and the shack, but within the same episode, it was back to fighting the dark fae, her back in her shack and me losing interest again.
Dyson, a boring mundane character, Hale who really is a pointless character in the whole series with whistling skills (whoop) that he barely ever uses (because they are pointless) Trick who just is an encyclopedia of fae's and pulls the odd pint. Kenzi is the only one of the characters who makes the show a little more entertaining with her craic and obviously Bo, well she is the eye candy that makes it worth watching.
The only good thing they did mange with this show is to get good looking characters...all besides Lauren, who basically is just a block of wood that does not excud any sexual attraction whatsoever who should be fae...the robot fae.
I don't know how this managed to pull off 5 seasons, but hopefully it will get better, but so far, it's pretty stuck in its ways and has no imagination for a good plot.

…

Expand

Disclaimer: I only watched the first episode. It was so bad that I was unable to watch any more.

I gave this show a shot based on theDisclaimer: I only watched the first episode. It was so bad that I was unable to watch any more.

I gave this show a shot based on the Metacritic plot summary; seemed interesting enough. The show turned out to be what I'd term as "very TV" meaning that the directing, acting, writing, and design are all corny and far below the level of quality that you would expect from a movie.

The costume and scenic design are both over the top and completely unbelievable. Not "unrealistic" in a clever way that makes any type of comment, but in an empty Hollywood way where every piece looks as though worked great as a standalone sketch on the drawing board. Somehow the elements don't come together as a whole.

The worst travesties begin with the writing. The initial concept had something going for it; the execution was more or less unimaginative beyond that point. The dialogue is full of cheesy one-liners that lack any real wit, and it is all delivered by actors who are by all means..."acting." I'm not sure there was even a director present who did anything more than tell the editor when to cut camera.

…

Collapse