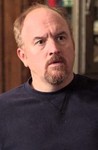 Starring:

Louis C.K.

Summary:

Dane Cook, Ricky Gervais, Joan Rivers, Jerry Seinfeld guest star in the third season of the Louie C.K. comedy series.

Genre(s):

Comedy
Creator:

Louis C.K.

Season 3 premiere date:

Jun 28, 2012

Episode Length:

30
Please enter your birth date to watch this video:
You are not allowed to view this material at this time.
These are almost closer to short stories than sitcom episodes--and yes, they're fantastic. [23 Jul 2012, p.38]

FX sent the first five half-hours for review, and they're all gems.

C.K. is writing, directing, and starring up a storm here, and his usual opening-segment stand-up routine, involving nearsightedness, is funnier than most sitcoms are in an entire season.

Louie is the anti–Anger Management: bizarre, inventive, and bold.

At the outset, this show aimed for hilarity and hit the mark, consistently and cathartically, while also trafficking in provocative sidewalk philosophy, achieving moral seriousness amid masturbation jokes.

There's quite a bit going on underneath the show's deceptively raw, on-the-fly simplicity. It's also often a hilarious, exhilaratingly dangerous mixture of the broad, macabre, and political.

The series remains smart and thought-provoking but it's also quite funny.
Who could have thought a comedy could provide this massive an insight into the human psyche. You can't get comfortable with this show because

Who could have thought a comedy could provide this massive an insight into the human psyche. You can't get comfortable with this show because you never know what to expect. Hope he never sells out because he's on fire right now.

…

Expand

Louie is a phenomenal show. It's hilarious and just so witty. I think he has some of the funniest jokes I've heard been told in a while. Louie

Louie is a phenomenal show. It's hilarious and just so witty. I think he has some of the funniest jokes I've heard been told in a while. Louie is one of the funniest and overall great shows I've seen in a while.

…

Expand

Louie continues to be, along with Breaking Bad, the best show on television. Season 3 has been fantastic so far and I bet it\'s just the

Louie continues to be, along with Breaking Bad, the best show on television. Season 3 has been fantastic so far and I bet it\'s just the beginning. If you're not watching it yet, well... Go. Do it.

…

Expand

Louis C.K. somehow, some way keeps getting better. Season 3 of Louie is my favorite of the seasons and I loved the first two. What I think

Louis C.K. somehow, some way keeps getting better. Season 3 of Louie is my favorite of the seasons and I loved the first two. What I think like most about Louis C.K.'s humor is that the jokes aren't a hold your hand, laugh track, rim shot, 1-2 punchline types. He's not above raunchy, offensive, toilet humor but it's some how sophisticated with its fearless look at the truly terrible realities of existence. The show is basically one long metaphorical kick in Louie's balls, but with the subtlety and honesty that raises it above lesser comedies.
I laugh from a position of superiority to Louie's angsty, suffering character and from continual surprise that horrible things can happen to Louie and when we'd normally expect a happy or lucky turn to finally come about, he gets knocked down again. I feel sick and twisted, but somehow he's got me laughing at death and misery many would weep at. Somehow it's thought provoking, deep, dark, and I was crying from laughing so hard. If you're the kind of person that says "Awwwww" multiple times a day while looking at cat pictures or because you can't help empathizing, even with fictional characters, this may be too much for you. It can be rude, offensive to liberal sensibilities, un-PC, and unapologetic, but if you keep your mind as truly open as the easily offended often claim to be, this show will make you a better and happier person.

…

Expand

First episode started with a bang (not literally) but I enjoyed every minute of it. Loved the parking sign! Louie does an amazing job acting

First episode started with a bang (not literally) but I enjoyed every minute of it. Loved the parking sign! Louie does an amazing job acting and turning his comedy into a story that someone can follow. As each enw season comes along, it doesn't get worse, it stays the same, which is very good. Great show, watch it!

…

Expand

Although at first glance, Louie seems like a low-key comedy about a comedian's normal life, the show is consistently funny and often

Although at first glance, Louie seems like a low-key comedy about a comedian's normal life, the show is consistently funny and often ridiculously hilarious. Normal daily situations are made comedic by just the most subtle of turns. The show is semi-relatable in the fashion, "this has never happened to me before, but I could totally see it happening." Also, the stand-up portions are superb - Louis C.K. is currently one of the best comedians out there.

…

Expand

I loved seasons 1& 2 and was looking forward to season 3. Although still watchable , it is no where near as funny as the previous

I loved seasons 1& 2 and was looking forward to season 3. Although still watchable , it is no where near as funny as the previous seasons,instead Louie has become a little too dramatic.If only he stuck to being funny.

…

Expand