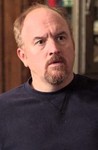 Starring:

Louis C.K.

Summary:

Stand-up comedian Louie C.K. draws from his own life as a divorced single father in this new comedy for FX.

Genre(s):

Comedy
Creator:

Louis C.K.

Season 1 premiere date:

Jun 29, 2010

Episode Length:

30
Please enter your birth date to watch this video:
You are not allowed to view this material at this time.
The star also is the writer, director and editor, does a much better job of translating Louis C.K.'s wit and comic irreverence to a weekly series. It deserves to catch on, though it's back-and-forth style might make it a tougher sell to viewersc

The indie-director touches do not narrow the appeal of Louie. It is, however, strictly for adults.

His chronic pessimism may grow harder to tolerate over the course of a 13-episode season, but for now, Louie provides brooding wit and genuine pathos in substantial enough doses to eclipse any shortcomings.

Louie isn't a learning-and-hugging show by any means; but amid all of C.K.'s cocky bluster and politically incorrect language, there are plenty of rich moments of respite, when people with polarized world views actually hear and like one another.

It takes a while for Louie to find its own voice, and while it is at times a crude and offensive one, it is not without a strange wit and under-the-radar appeal.

Louie is so low-key that it has no discernible pulse. To say it's unfunny is accurate (profoundly so) but also beside the point: It's un-anything.
Funniest show on television right now. Louie is vulgar yet honest and he is comfortable laughing at his bouts of depression. Helps you feel

Funniest show on television right now. Louie is vulgar yet honest and he is comfortable laughing at his bouts of depression. Helps you feel comfortable with your own humanity and laugh!

…

Expand

Funny show anybody who disagrees is a but hurt suburban dumpster baby angry at the world because mommy did not buy them the Iphone5 ,and don't

Funny show anybody who disagrees is a but hurt suburban dumpster baby angry at the world because mommy did not buy them the Iphone5 ,and don't have appreciation for stand up comedy.

…

Expand

"Louie" is a perfectly constructed comedy. It's cringe-worthy, honest, painful, and hilarious. Too bad it will be canceled after one

"Louie" is a perfectly constructed comedy. It's cringe-worthy, honest, painful, and hilarious. Too bad it will be canceled after one season because America hates clever, original shows.

…

Expand

Good show. The comedy is basically about serious awkward moments. Some are extremely funny while others are not that funny at all, yet it

Good show. The comedy is basically about serious awkward moments. Some are extremely funny while others are not that funny at all, yet it still keeps my attention. Not you average comedy and very unique. I love it.

…

Expand

Uneven but funny as hell. Brash, vulgar and somehow truthful. Louie needs something along the lines of a Jerry Seinfelf treatment. That way,

Uneven but funny as hell. Brash, vulgar and somehow truthful. Louie needs something along the lines of a Jerry Seinfelf treatment. That way, it would stay on for multiple seasons and continue to be consistently funny.

…

Expand

Before I start this review let me just say I am a big fan of Louis CKs stand up and that anyone that hasn

First of all it is not a comedy!!! it's the most unfunny comedy of all time. In my opinion Louie C.K. created a dead boring sitcom with very

First of all it is not a comedy!!! it's the most unfunny comedy of all time. In my opinion Louie C.K. created a dead boring sitcom with very artistic directing and picture but with a very bad actor with enormous limitations (that possibly can't deliver the intended laughs from the screenplay)

…

Expand