Network:

AMC

Series Premiere Date:

Jul 19, 2007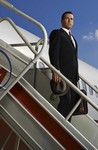 Season 4 premiere date:

Jul 25, 2010

Episode Length:

60
Please enter your birth date to watch this video:
You are not allowed to view this material at this time.
The Making Of Mad Men: Women's Hair Styles
The final scene is a moment of pure TV story-telling mastery straight through to the sounding of "Tobacco Road." And you can feel the surge of energy it releases in Draper's psyche--and the series--practically radiating off the screen.

To paraphrase one of the great ads from the glory days: Between love and Mad Men lies obsession.

Don has shed some secrets, but the more he puts himself on the line, the bigger chance there is for failure. And when it comes to showing how complicated people fare under pressure, the sterling Mad Men has few peers.

Sunday night's opening episode, Public Relations, delivers some jaw-dropping moments.

The writing remains remarkable, as it toggles between the rhythms and cliches of 1950s movies and the timeless resonance of mid-20th-century theater. You rarely find such economical and evocative scripting on TV.

Matthew Weiner's stylish soap opera continues to be both stylish and sudsy in about equal parts, and, as always, I'd be happy to spend most of my time at the office with Don, learning the secrets of advertising and ignoring his mess of a personal life, if not for Don's precocious daughter, the inimitable Sally Draper (Kiernan Shipka).

The events of that Season 3 finale have rebounded to the good of the Season 4 premiere. And Season 4 gets off to a very promising start on Sunday.
Easily the most intelligent and addicting show on television. I had my doubts when this show first started and i kept seeing it win all of the

Easily the most intelligent and addicting show on television. I had my doubts when this show first started and i kept seeing it win all of the awards year after year and i got tired of it, so this past year i figured, lets try it out. I did and i've been absolutely hooked since, and i cannot wait for season five on the 25th. This show deserves any kind of praise it gets. I've never seen a show so realistic and intelligent and beautiful ever in my life...until Mad Men. Best show EVER!

…

Expand

Astonishing. Mad Men excels on every level. It achieves what hitherto I've only experienced in opera... questioning my very existence and

Astonishing. Mad Men excels on every level. It achieves what hitherto I've only experienced in opera... questioning my very existence and shaking me to my very core.

…

Expand

Mad Men is back, and while there are drastic changes for Don Draper and Co., the show seems fresh and familiar at the same time. No cuts of

Mad Men is back, and while there are drastic changes for Don Draper and Co., the show seems fresh and familiar at the same time. No cuts of awesomeness here!

…

Expand

though the season ended on a sour note for me with don not acting very much like don, i still loved the season and as always it captured the

though the season ended on a sour note for me with don not acting very much like don, i still loved the season and as always it captured the time period and characters very well

…

Expand

The first three seasons were fantastic and this is the best season yet. So entertaining and great story lines! Great show! Love watching it

The first three seasons were fantastic and this is the best season yet. So entertaining and great story lines! Great show! Love watching it and my husband loves it too.

…

Expand

Mad Men is one of those rare shows that just continues to get better with every new season. Season four focuses heavily on Don Draper (Hamm)

Mad Men is one of those rare shows that just continues to get better with every new season. Season four focuses heavily on Don Draper (Hamm) as, having seen his marriage collapse, we begin to truly see the man behind the mask for the first time. The writers do a brilliant job of showing us a dark time in Don's life was also reminding us what a smart and talented man he can be when he sets his mind to it. John Hamm is quite frankly superb throughout and it is to the credit of the supporting cast that they are not completely overshadowed by his performance.

In an age full of reality nonsense and programmes dumbed down to 'appeal to everyone' it is a delight to watch a show with such intelligence that rewards it viewers with drama of the highest order.

…

Expand

This season really just does not work for me & the actors & writers need to show more expression like the first & second season that deserved

This season really just does not work for me & the actors & writers need to show more expression like the first & second season that deserved there Emmy nominations

…

Expand