Network:

AMC

Series Premiere Date:

Jul 19, 2007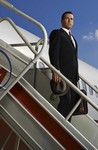 Season 6 premiere date:

Apr 7, 2013

Episode Length:

60
Please enter your birth date to watch this video:
You are not allowed to view this material at this time.
The Making Of Mad Men: Women's Hair Styles
The sumptuous two-hour opener to Season 6 is a remarkable piece of work--beautiful, provocative, and deep. It's an unexpectedly exquisite distillation of the show's themes and aspirations.

Unlike Season 5's two-hour premiere, which easily could have been edited to half its length, every minute of Sunday's episode feels necessary, checking in with all our favorite players and dancing with Weiner's favorite theme, death.

Season 6 jumps ahead in time and launches with a beautifully written, contemplative two-hour opener called "The Doorway."

The suits are louder, the sideburns are longer; aside from that, the season-six premiere proves to be classic Mad Men with plenty of vice (maybe more than before, at least more pot), long hours at work and lots of questions.

Even at its most ponderous and indulgent, Mad Men casts a mesmerizing spell, and that's true throughout this less-than-satisfying but intermittently intriguing chapter.

Mad Men is that rare thing that can be as infuriating as it is perfect. I've gone back and forth (and hot and cold) on it as much as a critic can; I warmed to it last season but feel a familiar chill this time.
This review contains spoilers

, click expand to view

.

In my eyes, the series best season. I loved seeing how the characters grew even more. Seeing the impact of MLK's assassination affected the community is one of the season most memorable moments. With more flashbacks to Don's childhood we can see deeper into his character and start to see where his actions are coming from.

…

Expand

The show is top class entertainment with great ingredients whether we are talking writing, directing, acting, music, fashion, history. You

The show is top class entertainment with great ingredients whether we are talking writing, directing, acting, music, fashion, history. You name it.

I love how every season brings me equal anticipation. I fear skipping a minute because I know I will miss a great line or some little detail about some fictitious character that for some strange reason is of great importance to me. It takes a great deal of genius to stretch fiction this far within one's own immigration. This is suddenly the time and place you badly long for although you are not from the Mad Men generation neither you lived in New York City.

I enjoyed seeing how the characters grew in their roles, some to the most unexpected demeanours. I make a special mention of how a new Pete Campbell emerges from the sleaze that he wore flawlessly to this likeable character with this occasional outburst of morality and social intelligence. I admire how the writers and cast are playing with our sense of judgement and it is very difficult to have a favourite character in this show.

It would be an impossible to say praises to the cast in few words but I can say that the choice of actors is masterful. Jon Ham has certainly fulfilled his mission on earth by bringing to life the legacy of a Don Draper. That this pure power. The list goes on and on: Peggy Olson, Betty Draper, Joan Harris, Roger Sterling, Lane Pryce, Megan Draper, Lane Pryce, Trudy Campbell, Ted Chaough, Bert Cooper, Ken Cosgrove, Harry Crane, and a very long list of unforgettable characters

The urge to write this review is predominantly to say that it is too early to close the curtain on this show. It still has a great deal of steam and because it will leave an obvious void in the TV landscape.

This is what I call "Bravo TV"

…

Expand

My wish came true & Mad Men shined in episode 10 of season 6! Good dialogue and pace. Less ambiguity. This is more like the Mad Men I fell in

My wish came true & Mad Men shined in episode 10 of season 6! Good dialogue and pace. Less ambiguity. This is more like the Mad Men I fell in love with!

…

Expand

Don Draper. The man, the myth, the legend. His life is collapsing around him this season and he sees himself back in his old ways only to

Don Draper. The man, the myth, the legend. His life is collapsing around him this season and he sees himself back in his old ways only to discover he's lost his touch. While it makes for a very interesting story, it also makes for a very dangerous one simply because we've seen it all before, which is why I think they shake it up. This season displays that. Very interesting and fun season to watch unfold in front of you. The finale left me disappointed and unsatisfied from a story sense as there are many doors still wide open and there's no closure or continuity. Next season is the last season, but it certainly won't feel like it. Can't wait.

…

Expand

Whatever you think about it Mad Men is deinitely changing the way we watch TV, with every episode being like a movie of itself. Looking

Whatever you think about it Mad Men is deinitely changing the way we watch TV, with every episode being like a movie of itself. Looking forward to see if Don Draper dies, I think he will for sure!

…

Expand

I am probably ruining the popularity flow here but I am not feeling Mad Men as much as had in the past 5 seasons. I have been a devoted fan up

I am probably ruining the popularity flow here but I am not feeling Mad Men as much as had in the past 5 seasons. I have been a devoted fan up until the start of season 6. I am getting a little tired, as someone else wrote here, "of the Mad Men formula". I think the demise of my interests also stems from the ability to feel like the story line is going somewhere. I think this is the end of Mad Men for me and I must say with great sadness, "It has been a really great ride".

…

Expand