Network:

Showtime

Series Premiere Date:

Oct 11, 2013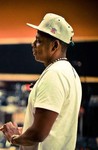 Summary:

Directed by Ron Howard, the documentary produced with Jay-Z takes a look at the 2012 Made in America music festival in Philadelphia and includes performances as well as interviews from such artists as Gary Clark Jr., D'Angelo, Dirty Projectors, The Hives, Miike Snow, Janelle Monáe, Odd

Directed by Ron Howard, the documentary produced with Jay-Z takes a look at the 2012 Made in America music festival in Philadelphia and includes performances as well as interviews from such artists as Gary Clark Jr., D'Angelo, Dirty Projectors, The Hives, Miike Snow, Janelle Monáe, Odd Future, Rita Ora, Passion Pit, Pearl Jam, Run-D.M.C., Santigold, Jill Scott, Skrillex, and Kanye West.

…

Expand

Genre(s):

Movie/Mini-Series

,

News/Documentary

,

Documentary

,

Music
Show Type:

TV Movie

Season 1 premiere date:

Oct 11, 2013
This documentary provides fascinating insight into Philadelphia's inclusive music community.

The surface bromides of meritocracy are each artist's main talking points, but the real fun comes in smaller moments, like watching Jay Z rehearse or Joseph "Rev. Run" Simmons nervously pace around the stage, worried that not everything will go as planned.

Though painfully brief, the vibrant footage of acts like Passion Pit, D'Angelo, Dirty Projectors and Gary Clark Jr. on stage indicates that Made in America could have been a magnificent concert film. Instead, it's a pompous, overly earnest documentary, striated with flashes of brilliance.