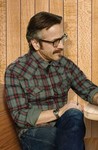 Summary:

Michael Ian Black, David Cross, Chris Hardwick, Johnny Knoxville, Conan O'Brien, Andy Richter, Ray Romano, and Sarah Silverman are some of the guests on the second season of the comedy about the fictionalized version of comedian/podcaster Marc Maron.

Genre(s):

Comedy

,

Talk & Interview

Show Type:

Between Seasons

Season 2 premiere date:

May 8, 2014

Episode Length:

30

Air Time:

10:00 PM
Maron may not have the depth and adventurousness of "Louie" or the crude energy of Jim Jefferies's "Legit," but it's consistently well written (or improvised) and smartly cast.

Maron portrays a war against self-pity that's unusually resonant for its willingness to plumb the legitimately pitiful.

Based on a preview of four episodes, the second season of Maron will be as laid-back and lighthearted as the first.

As sitcoms about talented, self-defeating assholes go, though, Maron is pretty good, though it has yet to plumb the sublime depths of self-loathing showcased on the likes of Louie, Girls, and Veep.

[The premiere episode] begins with some decent gags (Maron wanting to profess his love with a toe ring!) before he gets to groaners.

His TV show has none of the ambitious reach of his best podcasts, and it keeps pretending to be edgier than it is.
We take a look at the most notable new and returning shows headed to TV screens between now and August, including new seasons of Orange Is the New Black, Rectify, and Masters of Sex, plus intriguing newcomers like The Leftovers, Penny Dreadful, The Strain, The Knick, and Halt & Catch Fire.