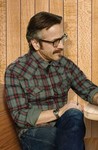 Summary:

Marc Maron stars as a fictionalized version of himself in this new sitcom.

Genre(s):

Comedy

,

Talk & Interview
Show Type:

Between Seasons

Season 1 premiere date:

May 3, 2013

Episode Length:

30

Air Time:

10:00 PM
Maron, 49, seems to be effortlessly gliding through his angst, laughing only rarely while giving viewers far more reason to do so.

Maron is at its greatest when the comedian plays into the abrasiveness that lands him in trouble with others.

Though its narrative structure and atmosphere take a markedly different tack, Maron presents itself as a fair complement to Louie in that both shows concern themselves with refreshingly substantive masculine types.

It can be claustrophobic; it can be, as Marc's Twitter hater tells him in the first episode, "whiny." But it can also be quite funny, as Maron's instinctive kvetchiness runs up against the practicalities of life.

The acrimony between the two men [Marc Maron and his father] doesn't register as funny or entertaining. Louis C.K. has shown us, on "Louie," what sort of deeper meaning can be mined in such deep contempt, but on Maron it just feels ugly and dull.
Two years ago I didn't know who Marc Maron was, and now I'm glad I do.

While shining an obviously hyperbolic light on the comedic side of entertainment, Maron (the show) works through universal issues of humanity in a way not dissimilar to Louie or Seinfeld. There's an aesthetic genuine-ness combined with hyper self-awareness that all of this is in fact merely a representation of somewhat real events. Most importantly, I find it hilarious.

I totally dig it, man.

…

Expand

For those that miss the unique reality that was all Larry David in Curb Your Enthusiasm, or can't get enough of the perpetually

awkward-to-hilarity relationship Louis CK portrays in his newer series of same name, you're in for one heck of a treat with this highly original, always entertaining, and downright hilarious new series starring Mark "get used to seeing this guy from now on" Maron!

Enjoy,
Christian Hunter
Austin, TX

…

Expand

Watched the pilot, and I have to say it was pretty hilarious, will be looking forward to upcoming episodes of the show. If you enjoy comedies

like Louie and My Name Is Earl, I would highly suggest this.

…

Expand
We take a look at the most notable new and returning shows headed to TV screens between now and August, including new seasons of Orange Is the New Black, Rectify, and Masters of Sex, plus intriguing newcomers like The Leftovers, Penny Dreadful, The Strain, The Knick, and Halt & Catch Fire.