Network:

FX

Series Premiere Date:

Jul 16, 2014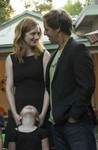 Starring:

Jenny Slate

,

Judy Greer

,

Nat Faxon

Summary:

Russ (Nat Faxon) and Lina Bowman (Judy Greer) struggle with keeping the romance alive in the bedroom as parents of three young daughters in this Andrew Gurland comedy.

Genre(s):

Comedy
Creator:

Andrew Gurland

Season 1 premiere date:

Jul 17, 2014

Air Time:

10:30 PM
The writing is superb and painfully funny, while the cast is terrific.

Married turns out in succeeding episodes to be an increasingly sturdy comedy-drama of married life--dour, but recognizable, with strong performances from Ms. Greer and Mr. Faxon.

There are some terrifically funny lines and it's intellectually funny, but not often ha-ha funny and the situations are dark and depressing.

This kind of series still requires a deft touch, even with the expanded license FX offers to explore sexual situations more frankly than in the broadcast realm. It's to Greer's credit, moreover, that she manages to make Lina more fleshed out than just a tiresome scold, since this portrait of Married life tilts heavily toward Russ' perspective.

Ms. Greer and Mr. Faxon are talented comedians, but the writing isn't quite up to their abilities.... The show improves when Russ leaves the house and hangs out with his bitter, profane best friends.

The whole thing is every bit as joyless, airless and uncomfortable as the marriage it's depicting--a show filled with miserable, unlikeable characters that doesn't provide them with writing remotely sharp enough to compensate.

A grisly wallow in domestic dysfunction that reaches for indie-film cred but collapses under a toxic barrage of bleak vignettes of gamy misery.
Nat Faxon and Judy Greer are amazing. I've loved them and their other shows and movies and I'm glad to have a chance to shine in this vehicle.

Nat Faxon and Judy Greer are amazing. I've loved them and their other shows and movies and I'm glad to have a chance to shine in this vehicle. The shows secret weapon however is Jenny Slate. She steals absolutely every scene that she's in and she's hysterical.

…

Expand

Amazing cast with a premise that might seem a bit familiar, but it's done in a way that makes me wanting more by the end of the 30

Amazing cast with a premise that might seem a bit familiar, but it's done in a way that makes me wanting more by the end of the 30 minute-mark. Love the indie-like feel of this comedy.

…

Expand

I recorded the first episode on the DVR but then saw all of the negative review and almost didn't watch this. After just watching the 3rd

I recorded the first episode on the DVR but then saw all of the negative review and almost didn't watch this. After just watching the 3rd episode tonight, I am very pleased that I chose not to delete. Every episode has some painfully funny and TRUE moments ("Oh, I remember that happening to me) and I find I have a wry smile though out. Whether its relationship stuff, children issues, or just illustrating what we go through getting older, this show has got it right so far.

So, I really don't think the criticism justified here. My wife has asked me twice this week "When is that Married show on again?" - and she hasn't asked me about any other shows in ages. Hopefully more people will catch on and we'll get to see these character develop over time. 9 out of 10.

…

Expand

A funny and sometimes bitingly truthful look at how it can be hard at keeping the fire alive in a marriage. Not only does it focus on it's

A funny and sometimes bitingly truthful look at how it can be hard at keeping the fire alive in a marriage. Not only does it focus on it's main characters intimacy issues, but also their financial troubles. With a great main and supporting cast and plenty of funny moments it's worth watching. The problem is that it's not always particularly gripping. The writing sometimes lacks intelligence and given the show's tendency to focus on the bleak there are lulls in between the funny bits.

So "Married" has some work to do before I would consider it great, but it's funny and entertaining so far. The at times depressing tone does get in the way at times, but the funny bits are worth sticking around for. I give it a 7.5/10-Good.

…

Expand

Of course, Nat Faxon and Judy Greer are great. That's what they do. The episodes that stick to real-life situations tend to be the ones that

Of course, Nat Faxon and Judy Greer are great. That's what they do. The episodes that stick to real-life situations tend to be the ones that work best. However, this couple is faced with (or causes) a lot of really ridiculous situations that make it impossible to empathize or care. It also has a handful of really unlikable supporting characters. It pains me to say, because I like Jenny Slate and John Hodgman, but their characters, along with Brett Gelman's, are all pretty terrible people. That's not necessarily a bad thing if there is something redeeming or that one can relate to, but I am just not interested in watching a show about narcissists who totally lack self-awareness and whose problems are all self-inflicted. It makes it very hard to care. I live in LA and am in my early 40s. I have friends on the spectrum from just getting by to extremely successful. This show is basically about people living similar lives to me, my friend's and their families, but it just doesn't feel like my life or anything I could fathom being my life at all. So, it makes me say to myself "Who are these people?" constantly... but not because I want to actually know, but because I don't believe they exist. I'm still watching, because I sense they could be onto something, but I am still waiting for it to come up to my expectations.

…

Expand

This show is shot realistically, not like a sitcom. The sets appear to be authentic. There is no laughing audience. The stars are so-so

This show is shot realistically, not like a sitcom. The sets appear to be authentic. There is no laughing audience. The stars are so-so looking or at least made up that way, not like your average TV stars, which adds to the realism. I say this because the realism, coupled with the relentless cynicism, makes the show very unappealing to me. I could laugh along with Seinfeld, because half the time Jerry was breaking character revealing that it was just a show, the sets were clearly fake, and the actors were broad archetypes. Everything was exaggerated, as in a comedic play on stage. But when you insert a Seinfeldian cynicism into a show that is in all other ways so realistic, it comes off to me as unfunny and just kind of sick. I ask myself, "Who can relate to this?" My wife after we watched the pilot together said, "Don't ask me to watch this show with you again." But I gave it a couple more tries. After episode 3 I gave up. I'm a decade older than the guy in the show, married with child, and I just don't have anything close to the jaded negative attitude he and his wife have; and the bad job they do as parents. One episode started with the three kids bickering on the way to school with their mother, and for some reason this was supposed to be funny. I didn't understand why. Another moment had the husband suggesting they put the dog to sleep rather than pay for its expensive treatment at the vet, and use the savings to take a vacation. The whole thing to me is just kind of sick.

…

Expand

This show is implausibly ridiculous. Who knows married people like this...and if so, I bet they aren't married any longer. These people are

This show is implausibly ridiculous. Who knows married people like this...and if so, I bet they aren't married any longer. These people are rude and disrespectful and certainly don't like each other. Hollywood thinks it's funny, but it is not indicative of average married people.

…

Expand