Network:

TNT

Series Premiere Date:

Nov 26, 2013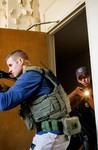 Summary:

The reality show executive-produced by Jerry Bruckheimer follows the U.S. Marshals Service Gulf Coast Violent Offenders and Fugitive Task Force as they track and arrest criminals in Texas.

Genre(s):

Reality
Season 1 premiere date:

Nov 26, 2013
They all talk the talk that we want to hear: "We're after the worst people on this planet," one marshal says, looking at the camera: "You're going to live like an animal for the rest of your life until I catch you."

In the end, though, justice is served. Although with Bruckheimer, the serving spoon again tends to be a sledgehammer.

The Fugitive Task Force members at the center of Marshal Law: Texas dive into a night-vision action scene so inarticulate and so juiced by the score it's just embarrassing. Executive-produced by Jerry Bruckheimer, Marshal Law: Texas is desperate to be an action flick.