Network:

ABC

Series Premiere Date:

Sep 24, 2013

Season #:

1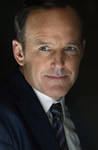 Summary:

Agent Phil Coulson (Clark Gregg) leads a group of S.H.I.E.L.D. agents: Grant Ward (Brett Dalton), Melinda May (Ming-Na Wen), Leo Fitz (Iain De Caestecker), Jemma Simmons (Elizabeth Henstridge), and new recruit Skye (Chloe Bennet) to investigate and protect the world from the unknown. The

first live-action series set in the Marvel Cinematic Universe comes from The Avengers director Joss Whedon, along with Jed Whedon and Maurissa Tancharoen.

…

Expand

Genre(s):

Drama

,

Action & Adventure

,

Science Fiction
Show Type:

In Season

Season 1 premiere date:

Sep 24, 2013

Episode Length:

60

Air Time:

08:00 PM
As with "The Avengers," Whedon's ear and sensibilities match the material perfectly.

Marvel's Agents of S.H.I.E.L.D. looks to be the most fun you'll find in an hour of prime time this fall.

The pilot does a deft job of managing expectations for a world we're used to seeing splashed on a larger screen.

Just enough geeky insider stuff to keep the fan-boys from grousing too much, but an even bigger portion of well-written action, drama, humor and intricate plot details to hook viewers who gave up comic books before Steve Canyon was grounded.

Gregg's resurrected Coulson so far is the much-needed glue, lending a familiar presence and sturdy countenance.

Everything works and the actors range from fine to good--although the fast-talking chatter between De Caestecker and Henstridge gets old quickly--but it doesn't exactly crackle with excitement. It's fun, but a little flat in spots.

The shame is that a series about a band of heroes trying to hunt down more potential heroes could be the perfect antidote to TV's own overly dark cliché: the anti-hero. But instead it resists the call, too self-serious to be really goofy, and yet too fan-boyish to rescue even one hour of television from mediocrity.
The show is engaging and taking real time to develop new characters. There are plots and twists around every bend as is pretty typical of a

Joss Whedon vehicle. Currently, they've really tightened up the story arc while not laying all the cards on the table. I love Marvel's Agents of S.H.I.E.L.D. and eagerly wait for Tuesdays, despairing of the long breaks between critical episodes.

Those folks who want more superheroes obviously can't read a synopsis since this show is about the regular people who exist in the background as personified by Agent Coulson. It's taken time for me to grow to love all the team, but I have and I don't miss the Avengers one bit. I wanted a show about the behind the scenes, about the lives of agents, and that's what we're getting.

…

Expand

Marvel's Agents of Shield is far from perfect. Many fans criticized the show for not being "Marvel" enough, however the show is slowly taking

viewer's advice. With Mike Peters becoming Deathlok; Agent Maria Hill, Nick Fury, and Lady Sif making appearances; Donnie Gill from episode 12 becoming a version of Blizzard; Bill Paxton becoming Agent John Garrett; the strange blue alien at the end of episode 14; and future tie-ins with Marvel movies (like Captain America: The Winter Soldier) the show is genuinely trying to improve. With each passing week, Agents of SHIELD. is becoming a more fully developed show; after many episodes it has finally managed to redeem itself. The show's characters are generic, to say the least, but they have been changing for the better. I get that fans want to have more Marvel superheroes and stuff in the episodes, and I agree with that, but it's a bit too much to ask for people like Robert Downey Jr and Scarlet Johansson to appear on the show. Another initial problem with SHIELD was that it had "case of the week"-like episodes. There was no overall story arc (a problem Fox's Almost Human faced). Now though, there is Centipede and the Clairvoyant.

I liked the references to the Marvel Phase One group of movies with plot elements like Extremis. While I had my doubts when I watched the first episode, I think this show is good now and I now highly recommend it. I think it's better than The Avengers and the show has potential. My only major complaint is that it's too unrealistic at times, like with the little robots and the flying car at the end of episode one, unlike the Marvel Cinematic Universe which is grounded in reality (for the most part). I also like the plot twists in the episodes and the premises. I think they should merge the Marvel One-Shot "Item 47" with this; that would be cool.
I personally always liked the show, despite all its faults. I think a big problem was that some people had really high expectations for this show, and those high expectations weren't met. I get that, because I had high expectations for The Avengers and Iron Man 3, and I was disappointed when they weren't met. High expectations can ruin otherwise great films/TV shows, so I recommend that if you don't already—don't expect too much from this show. If you liked this review, read my other reviews on a wide variety of movies and TV shows by clicking on my name and mark this review as helpful. Remember, every vote counts and I'd really appreciate it.

…

Expand

The cast may be ever so slightly inadequate and the plotting seems confused (like it can't decide what it is) and melodramatic. Yet, it's

complaisant viewing and it has an undeniably sweet feel about it, as it really is just convivial fun perfect for a family viewing, since it has eye candy, inconsequential violence, stomach-clenching action and a witty script.

…

Expand

The GOOD: a very likable cast. The BAD: the writing is very lame.

Imagine taking an ensemble drama loaded with quirky characters, in the style of, say, STAR TREK: TNG or NCIS, and then remove all interesting elements. Then make each episode have the exact same storyline as all the others. Do all this and you'll have "Marvel's Agents of S.H.I.E.L.D.". But there is one thing to greatly appreciate: Clark Gregg and his fellow actors are making the S.H.I.E.L.D. agents feel like family, a quality reminiscent of Marvel's classic comics from the 1960's thru '80's, where the Fantastic Four is a nuclear family, the X-Men an extended family, and the Avengers that exclusive clique you always wanted to join in high school (not to mention Peter Parker, the amazing Spider-Man, who's either your best pal or soul mate). But, in the comic books, characters were always interacting with the real world, with substantial human drama occurring in the background. Our S.H.I.E.L.D. agents, perhaps by the nature of their jobs, are too isolated. There's no reason why TV viewers would relate to these characters or even find them sympathetic. Even S.H.I.E.L.D 's mission doesn't seem clear. Why should I care what the agents do? Worse, the scripts have no originality. I expected writing inspired by the best travel blogs, science fiction and social observations. I wanted a blend of genres, and a wit with good eyes for style and detail. But the cinematography greatly disappoints. It's all action, punching and fighting. I never feel transported to any new and magical world. And there is never any sense of rediscovery. "Marvel's Agents of S.H.I.E.L.D." ultimately seems a marketing ploy meant to sell movies and toys, with not much thought put into the crafting of an art.

(But don't claim this is a show written with children in mind. There are boudoir-type elements that should have any parent reaching for the OFF switch!)

Eight episodes in and I'm bored. S.H.I.E.L.D. is now removed from my DVR list. Since I haven't seen any of the big Marvel blockbuster movies during the past 20 years, perhaps my judgment shouldn't influence others. I'm hoping some people will remain faithful to this show and become greatly rewarded for their patience. But I'm certain Marvel fans deserve far better (as do Gregg and company). Hire some talented writers, camera people and set designers!

…

Expand

I have to say I am disappointed. I love the Avengers line of Marvel movies and about everything Joss Whedon has done, but this is crap. I have

watched five episodes and each is more boring than the last. The acting is... bad, very bad... terrible. I hope I really hope this show doesn't make it past 12 episodes because if it makes it past firefly I will not be happy.

…

Expand
Making the jump from the big screen to the TV screen is something that few television shows have pulled off successfully. We look at the best and worst film-to-TV adaptations of the past 30 years, including shows like The Returned, Fargo, and Buffy the Vampire Slayer.

Published:

November 14, 2013

After a promising start, ABC's freshman drama has been tumbling in the ratings and disappointing critics and fans. What exactly is wrong with Agents of SHIELD? Get the latest assessments from a variety of TV critics.