Network:

ABC

Series Premiere Date:

Sep 24, 2013

Season #:

1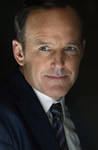 Summary:

Agent Phil Coulson (Clark Gregg) leads a group of S.H.I.E.L.D. agents: Grant Ward (Brett Dalton), Melinda May (Ming-Na Wen), Leo Fitz (Iain De Caestecker), Jemma Simmons (Elizabeth Henstridge), and new recruit Skye (Chloe Bennet) to investigate and protect the world from the unknown. The

first live-action series set in the Marvel Cinematic Universe comes from The Avengers director Joss Whedon, along with Jed Whedon and Maurissa Tancharoen.

…

Expand

Genre(s):

Drama

,

Action & Adventure

,

Science Fiction
Show Type:

In Season

Season 1 premiere date:

Sep 24, 2013

Episode Length:

60

Air Time:

08:00 PM
As with "The Avengers," Whedon's ear and sensibilities match the material perfectly.

Marvel's Agents of S.H.I.E.L.D. looks to be the most fun you'll find in an hour of prime time this fall.

The pilot does a deft job of managing expectations for a world we're used to seeing splashed on a larger screen.

Just enough geeky insider stuff to keep the fan-boys from grousing too much, but an even bigger portion of well-written action, drama, humor and intricate plot details to hook viewers who gave up comic books before Steve Canyon was grounded.

Gregg's resurrected Coulson so far is the much-needed glue, lending a familiar presence and sturdy countenance.

Everything works and the actors range from fine to good--although the fast-talking chatter between De Caestecker and Henstridge gets old quickly--but it doesn't exactly crackle with excitement. It's fun, but a little flat in spots.

The shame is that a series about a band of heroes trying to hunt down more potential heroes could be the perfect antidote to TV's own overly dark cliché: the anti-hero. But instead it resists the call, too self-serious to be really goofy, and yet too fan-boyish to rescue even one hour of television from mediocrity.
SHIELD is increasingly achieving what it is intended to do for its fan base.

It is delivering on both the graphic novel/comic book and long-arc plot genres. It has action, tech, emotions and romantic overtures that other programs can only hope for. It can appeal to a range of demographics. From a arc perspective, each week pulls back the curtain on tech gee wiz (the plane hover!), character back-story and undercurrents (internal SHIELD intrigue and villains).

Balance is difficult. Unfolding too fast and superficial would disappoint core fans hungering for depth. Too slow will make it more difficult to engage new-comers. Some criticize for insufficient tie from episode to episode. Yet, how many times have series failed by being so serialized, new-comers can't easily join in?

Stress is on the strengths. As the storyline unfolds it's generally getting better and planting seeds for a rich list of future episodes. While I have my favorite episodes (6 & 7 were especially strong in many ways compared to the pilot), mostly would be delighted to be a fly on the wall in the writing room to see the chemistry that produces the scripts and inspired the casting. Recall, it was the writing team and Clark Gregg that breathed life into Phil Coulson a character not in the the Marvel canon. That's a fan accomplishment.

Consider the business model. ABC's, really Disney's, commitment to the franchise and excellent track record in managing such franchises, gives SHIELD runway to unfold in this balanced way that could weave together the movies and games for years to come. Too many reviewers emphasize the number drop without realizing numbers are still respectable and the integrated business model might be quite respectable including the Verizon tag-on. SHIELD's demographics also are pleasing buyers for key advertisers.

…

Expand

A very good show. It started off very well, but I lost interest about half way through because the story didn't seem to be going anywhere.

Towards the end it gets much better with more plot twists, character development, and connections to the MARVEL movies. It's filled with action and drama.

…

Expand

I've gotten as far as the second episode. Overall, the characters themselves are very lackluster and not very creative. For the most part,

none of the characters are particularly engaging like Torchwood's (first and second season). The involvement in the Avenger's universe is pretty cool as there are nods here and there. But big explosions and CGI can only carry this show so far.

…

Expand

I'm sorry... the critics have been WAY too kind with this show. The plot/script was convoluted and
just uninteresting to be perfectly honest.

I was greatly disappointed!! If you're going to get involved in any show that where the the characters have super-powers... just watch HEROES.

…

Expand

I really wanted to like this show, but it reminds me of Terra Nova. A lot of promise, but never delivers and instead has a cheesy plot line,

poor CGI, bad acting and limited presence of what people thought they would see. In the case of Terra Nova, people wanted to see dinosaurs. In AOS, people are expecting to see B-line superheroes and villians....instead we get a mis-matched group of nobodies.

…

Expand

The writing is lackluster and cliche, but it's really the characters that damn the series. The actors have absolutely no presence or chemistry

with each other. Is Joss Whedon even involved with this show? He's known for his ability to take mediocre actors and build a powerhouse ensemble performances out of them and it's really hard to believe he had any hand in this mess whatsoever.

…

Expand
Published:

November 14, 2013

After a promising start, ABC's freshman drama has been tumbling in the ratings and disappointing critics and fans. What exactly is wrong with Agents of SHIELD? Get the latest assessments from a variety of TV critics.