Network:

Showtime

Series Premiere Date:

Sep 29, 2013

Season #:

1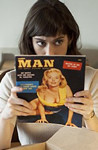 Summary:

Michael Sheen and Lizzy Caplan star as pioneering human sexuality researchers William Masters and Virginia Johnson in a 1950s-set drama based on a book by Thomas Maier.

Genre(s):

Drama
Show Type:

In Season

Season 1 premiere date:

Sep 29, 2013

Episode Length:

60

Air Time:

10:00 PM
The characters get better and more complex, the story builds, strange things start to happen and now I can't wait to see how its interweaving plots unfold.... It's rare that a show can intuit what the viewer wants and deliver it, but that's precisely what happened.

There is no more fascinating, or entertaining, new series this fall season.

Performance is never a problem for the cast of Masters of Sex. Caplan, Sheen and the supporting players keep everything humming in the best new drama of the fall season. You'll want to watch.

It makes the most of its pay-TV platform by showing plenty of skin, but the sex scenes service a bigger story made all the more compelling by a couple of strong leads in Michael Sheen and Lizzy Caplan.

All together Masters of Sex makes an engaging pilot, but it is as yet untested as a premise for a series.

It's an inviting, beautifully acted, and smartly written period drama set in the 1950s

Regardless of historical veracity, though, some of the drama here is shopworn.
This and The Americans are the two best shows of 2013. The early episodes are rich and show few signs of pilot pains. The lead actors (Sheen,

Caplan) work incredibly well together, What makes this series exciting is the writing. It's sharp and smart. Too many shows recently e.g. House of Cards and Ray Donovan, suffer because while they have good actors, the written is terrible. MoS is one of the best shows of the year, new and old.

…

Expand

Arguably, Masters of Sex is one of the most exciting new shows of 2013. It both looks and sounds promising from the pilot I have seen, which i

s odd because I am never convinced from the first episode. The cinematography is crisp and clean. The writing (so far) is engaging and I hope it continues that way.

Sheen and Caplan have excellent chemistry together which is a rare thing for two leads of a show to have, especially from the one episode that I've seen.

I hope Masters of Sex gets some recognition in the award season.

…

Expand

This is, by far, the best show of 2013. After a very good start, it gets better episode after episode, thanks to very strong cast performances

(Micheal Sheen on top) and really good writing and directing. It's a must-see.

…

Expand

After watching the two first episodes I thought it was okay, I will continue to watch, the plot is pretty good. Also the art department on thi

s show is on par with Mad Men's I think, all the settings seemed pretty authentic, also +1 for the James Blake song at the end of episode 2.

…

Expand
Published:

December 12, 2013

Find a full list of the 71st Annual Golden Globe nominations in film and television, and a look at the year's surprises and snubs.