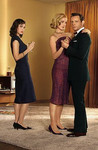 Summary:

Michael Sheen and Lizzy Caplan star as pioneering human sexuality researchers William Masters and Virginia Johnson in a 1950s-set drama based on a book by Thomas Maier.

Genre(s):

Drama

Show Type:

In Season

Season 1 premiere date:

Sep 29, 2013

Episode Length:

60

Air Time:

10:00 PM
The characters get better and more complex, the story builds, strange things start to happen and now I can't wait to see how its interweaving plots unfold.... It's rare that a show can intuit what the viewer wants and deliver it, but that's precisely what happened.

There is no more fascinating, or entertaining, new series this fall season.

Performance is never a problem for the cast of Masters of Sex. Caplan, Sheen and the supporting players keep everything humming in the best new drama of the fall season. You'll want to watch.

It makes the most of its pay-TV platform by showing plenty of skin, but the sex scenes service a bigger story made all the more compelling by a couple of strong leads in Michael Sheen and Lizzy Caplan.

All together Masters of Sex makes an engaging pilot, but it is as yet untested as a premise for a series.

It's an inviting, beautifully acted, and smartly written period drama set in the 1950s

Regardless of historical veracity, though, some of the drama here is shopworn.
Masters of Sex is definitely the best new show of the fall season, and probably the best premiere I've seen in the past year. Sheen and Caplan

are great as Masters and Johnson, and the quality of the show is top notch. It's not only a show about sex, but a smart, witty, real life tale of two historical figures.

…

Expand

I give this show a 10 after the first episode. I went into this show knowing about Masters & Johnson and wondering how it would be handled

well, to my surprise it was brilliant. At least the pilot episode. It caught me immediately and kept my interest. The acting, the dialogue/writing is so intentional that it becomes an even richer experience for me. The subject of sex for these pioneers is NOT a joke or a game but rather a real interest in the understanding of human sexuality. The respect in his work along with his passion for science and the sexual experience makes Masters worthy of respect, truly. I look forward to this show and to the whole journey of understanding how these two people changed the way we look our sex, sensuality, and sexuality and how we operate in these arenas as human beings. I cannot leave without saying that Johnson (Virginia) is a powerhouse--her intensity and intelligence is something to behold!!

…

Expand

Compelling, well acted and crafted show with an interesting premise unlike anything else on television. Impeccable writing, authentic to it's

period, rare and engrossing.

…

Expand

Masters of Sex is exceptionally well-crafted, and quite sensitive to the times in which it is set. More importantly, the show has

unflinchingly given voice to its female characters, whose sexuality and person-hood is heavily policed in a male dominated world. This has obviously created room for tense and emotive drama, wrought with intelligence and wit without devolving into a showcase of unnecessary histrionics.

…

Expand

Certainly not a terrible series, especially with its boldness and the various emotional conflicts the series explores, but definitely

overrated. Personally, I found the actors somewhat unbelievable in their roles, and that at times it is severely underacted. Though less may be more, zero is still zero. Nonetheless, I do not think it is as awful as I have seen some call it, and it is nice to see a show with no fear towards the still controversial topics it addresses. If only it was just slightly better at doing this, I would probably love it.

…

Expand
Published:

December 12, 2013

Find a full list of the 71st Annual Golden Globe nominations in film and television, and a look at the year's surprises and snubs.

Published:

December 11, 2013

We reveal the 10 best-reviewed first-year TV series that debuted this year. Plus, get a list of the top TV movies, miniseries, and specials, and rankings of all new shows by network.