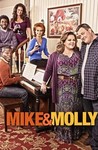 Creator:

Mark Roberts

Season 1 premiere date:

Sep 20, 2010

Episode Length:

30
Please enter your birth date to watch this video:
You are not allowed to view this material at this time.
Melissa McCarthy and Billy Gardell star in a sweet, old-fashioned sitcom. [Sep 27 2010, p.55]

It's Kurtz and Mixon that really elevate Mike & Molly from most couple-centric comedies.

As a Chicago cop and a fourth-grade teacher falling in love despite their own insecurities, they make a sweet, relatable team.

Underneath the crude humor, there's a sweetness and an honesty to the show. The duo's struggle with weight is believable.

Frankly, the premiere's funniest don't focus on weight (these are also the lines featured most frequently in trailers, suggesting that someone is aware of the line the fat jokes are walking). Let's hope for a time-soon-when Mike & Molly runs out of fat jokes and moves on to explore the dynamics of two people falling in love while working to overcome personal demons.

If you walk away from the Mike & Molly pilot and tell me that you hate it, because the only version you remember is the grating, pratfall-laden "laughing at" version, I can't say you're wrong. I can try to point you to the better parts of the pilot, like Mike's "share" to the Overeaters Anonymous group or his very different "share" to Molly's class of students, but as Chris Farley could have told you, those things don't get cheers like the "fat guy falls down" hijinks.

There are a lot of fat jokes in Mike & Molly. Unfortunately, all of them are easy, most of them are stupid and worse than anything is that they are spewed in what is being spun as a sympathetic look at people with eating problems.
I have only seen two episodes and I am DRAWN to this magnetic show. Melissa McCarthy's talent is highlighted beautifully and luckily

I have only seen two episodes and I am DRAWN to this magnetic show. Melissa McCarthy's talent is highlighted beautifully and luckily accompanied by a costar and cast that ISN'T in her shadow, like most sitcoms tend to do by pulling all attention to 1 "star", but also great, genuine characters. The two title characters are adorable! They are believable as they acknowledge they have weight issues and have fun of it. I discovered this show when it appeared after another of my favorite shows "How I Met Your Mother" which is also fabulous and has similar comedic writing, and though I at first saw it as yet another sitcom, I couldn't stop watching.

…

Expand

I LOVE this show. Mike and Molly is everyday life for anyone. I think some of you writing these reviews shouldn't get a vote because you just

I LOVE this show. Mike and Molly is everyday life for anyone. I think some of you writing these reviews shouldn't get a vote because you just don't know what you really are saying. I love heavy people. I am skinny and I run the risk everyday of breaking a bone. I rather be heavy than skinny because I don't care what people think. And neither should any of you out there that may have been offended (that are heavy set). You guys are my hero for the shame put on you because of how you may look. It isn't what is on the outside of the person, it is the inner beauty that means more than any skinny jeans. God Bless.

…

Expand

At first I the constant fat jokes irked me, being plus sized myself, but I still found the show funny and sweet. I have noticed the fat jokes

At first I the constant fat jokes irked me, being plus sized myself, but I still found the show funny and sweet. I have noticed the fat jokes have been toned down a lot in the recent episodes, so that's good. I also really love Billy Gardell, even garnering a little bit of a crush on him. What can I say, I like sweet, funny guys with a nice smile.

It's just nice to see a break from the fat guy/hot wife sitcoms that have been around for ages, not to say that Melissa McCarthy isn't beautiful, because she is. It's also great that the show is a hit. Maybe the show will help everyone realize that overweight people are just that: people.

I really like the show and am looking forward to see the series progress.

…

Expand

This review contains spoilers, click expand to view.

I do NOT like fat jokes, and I don't think being obese is a good basis for jokes. So I was most surprised, when I realized, that I actually like this show. The writers smartly avoided the "cheap joke-trap"; they may have made fun, from the awkwardness of being fat, but not in an aggressive, embarrassing way. What really matters, is the simple fact, that this is a cute love story about two likable man. Yes, they are fat, so what? This simple fact may lead to some unusual situation - which creates funny situations. This is a comedy. Loved it. And I recommend it to any open-hearted viewer.

…

Expand

Talents manage to shine through the thick cloud of crude jokes.

Cleo King is my favorite. She is a blast. And boy, can she sing! EveryTalents manage to shine through the thick cloud of crude jokes.

Cleo King is my favorite. She is a blast.
And boy, can she sing! Every character seems to get at least an episode for himself/herself. I hope there is one for Nana.

…

Expand

Based on my admiration for Melissa McCarthy I decided to check out the first season, and no. Couldn't make it through a single episode.

Based on my admiration for Melissa McCarthy I decided to check out the first season, and no. Couldn't make it through a single episode. there may be better ones than the one I started but just no. There's no way I'm using my time for that. In my estimation it's just background noise for people who never turn the television off (typical of the genre). Enjoyed McCarthy in Bridesmaids and the most recent SNL. Hopefully they'll revamp the show to feature her doing something that allows her to work closer to level ten than at the muted level two she's coasting at. 3/10

…

Expand

The terms "feculent" and "sophomoric" immediately jump to mind. CBS is clearly pandering to a target audience of mentally challenged fifth

The terms "feculent" and "sophomoric" immediately jump to mind. CBS is clearly pandering to a target audience of mentally challenged fifth graders with fetishes for scatological based humor. If jokes about bodily functions are what you find funny, this show should be right up your alley... pun intended. If your I.Q. is above triple digits, run don't walk, to the remote control if this comes on TV.

…

Expand