Network:

ABC

Series Premiere Date:

Feb 25, 2014

Season #:

1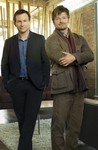 Summary:

Former con man Ross (Christian Slater) and his ex-professor brother Clark Edwards (Steve Zahn) are partners in Edwards and Associates, where they help solve their client's problems through the use of psychological manipulation.

Genre(s):

Drama
Show Type:

Hasn't Aired

Season 1 premiere date:

Feb 25, 2014

Air Time:

10:00 PM
It's an interesting conceit rooted in real behavioral science.

Mind Games is less complicated than Killen's other shows--which raises its chances until you factor in the dreadful time slot it will inhabit. Yet even though Zahn is a lot to take while having his bi-polar rants and motor-mouthed moments of anxiety, plus Slater's dubious end-of-the-pilot twist, there are elements in play with Mind Games that make it intriguing.

This compromise version emphasizes some of Killen's own weaknesses — he's not a procedural guy, as the cases on "Awake" tended to demonstrate.

Christian Slater and Steve Zahn play brothers who manipulate people into making decisions, but the characters never register as a pair to root for, and their talents aren't so much dazzling as they are dull. [28 Feb 2014, p.65]

The show proceeds at gale force, demolishing logic, plot, meaning and (most of all) pleasure in its path.

ABC hits a new low with Mind Games, an inexplicably and ridiculously convoluted drama which achieves the rare trick of making Christian Slater look like a master of understated acting.

NBC's "Ironside" was probably the worst new show of the 2013-14 season but this is a very close second. And it's particularly loathsome because one has to watch talented actors like Steve Zahn and Christian Slater suffer through this manipulative nonsense.
An interesting concept and a likable cast made the pilot very entertaining. Definitely going to stick with it for the first few episodes.

Steve Zahn's bi-polar ranting is a bit over the top, hope he can rein it in a little (I am a fan of his work and tuned in solely to see him). Give it a try.

…

Expand