Network:

ABC

Series Premiere Date:

Feb 26, 2014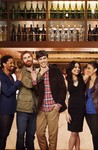 Starring:

Vanessa Lengies

,

Adam Campbell

,

Frankie Shaw

Summary:

Over the course of one night, five women and five men (Sarah Bolger, Adam Campbell, Adan Canto, Alexis Carra, Craig Frank, Ginger Gonzaga, Blake Lee, Vanessa Lengies, Andrew Santino, Frankie Shaw, and Katie Simses) look for love at a Manhattan bar called "Mix."

Genre(s):

Comedy
Maintaining this sort of rat-a-rat patter is no small feat, but the series gets off to such a promising start as to bode well for future installments. Moreover, the shifting pairings from episode to episode create a semi-serialized element that deftly builds off the groundwork laid the previous week, conjuring questions about who's going to wind up with whom.

If you like--or like zoning out to--slick and shiny romantic comedies in the vein of New Year's Eve and Valentine's Day, Mixology is the show for you. But underneath the glossy, Ryan Seacrest-produced banner, this cocktail actually has some genuine sweetness and originality.

The show is funny enough, although you might wonder where it would go in a second season, but here's the dirty little secret of Mixology: It's intelligent and poignant as well as being entertaining.

While some of the flirtatious banter in these random odd couplings can be witty and even winsome, after a few rounds (I made it through three episodes), I was ready to close out my tab.

At the end of the night, Mixology doesn't have a lot of fizz.

Mixology is a tone-deaf, poorly executed, badly written series that, in the parlance of the show, kind of rapes comedy.
Mixology is a hilarious show with great twists and turns. It is a raw and realistic depiction of the dating world today. The guy who plays

Mixology is a hilarious show with great twists and turns. It is a raw and realistic depiction of the dating world today. The guy who plays Bruce (his name escapes me at the moment) plays a hate-to-love character that absolutely NAILS his role! The background narrations of each character are really fun and enable the audience to really connect and almost build a slight rapport with the characters. The dynamic of each group is smart, funny and again, realistic. The ditsy waitress with the sexy bartender; The single mom and washed up friend; The business professional man-eater with her sweet and naïve friend/co-worker; And lastly the guys; Complete opposites, Tom and Bruce feed off each other and just create magic on the screen. Tom makes me cringe and yet makes me want to cuddle him and hold him while he cries on my shoulder. Overall this show is entertaining, funny and realistic. As much as I am not the hugest Ryan Seacrest fan, he did, in this case, produce something actually worth watching! Well done!

…

Collapse

Two things:
1. This show is satire. It pokes fun at these exaggerated versions of REAL people you would find at bars. There is no need to getTwo things:
1. This show is satire. It pokes fun at these exaggerated versions of REAL people you would find at bars. There is no need to get offended.

2. While this show is hilarious and pretty well-written, it belongs on FX or Comedy Central

…

Expand

I absolutely love this series! it is not only funny but it's real life problems that people have. I think that the show has so much potential

I absolutely love this series! it is not only funny but it's real life problems that people have. I think that the show has so much potential and I would love for it to continue!

…

Expand

I randomly came across this show mid-season and I was instantly hooked and that doesn't happen often at all. The last show I really liked was

I randomly came across this show mid-season and I was instantly hooked and that doesn't happen often at all. The last show I really liked was freaks and geeks. This show is a look at the bar scene from 10 perspectives and each episode is multiple viewpoints of the same point in the night. I thought the concept was original and it was cool to see a representation of a contemporary night out. The actors themselves are a great collection of funny, talented, and memorable people. Each character gets explored to different extents in each episode and you come to love them all. It's a shame the show was cancelled although it could be a hard concept to turn into a series. It almost feels like it should be a movie. It reminds me a lot of 'nick and norah's infinite playlist'. As for the abysmal critical reviews... well critics are pretentious **** what's new.

…

Expand

After the many negative reviews I was somewhat reluctant to watch this show but was very pleasantly surprised when I did. I find the show

After the many negative reviews I was somewhat reluctant to watch this show but was very pleasantly surprised when I did. I find the show fresh and innovative and different from most everything else on TV. Of course, some of the characters are more likeable than others. My favorites are Ginger Gonzaga (Maya), Kate Simses ((Liv), Adam Campbell (Ron), Blake Lee (Tom) and Craig Frank (Cal). Ron definitely has the best lines and sweet and dangerously curious Liv makes the perfect foil for him. I found the story lines funny and engaging. I only hope that the negative reviews and the less than stellar ratings don't lead to the show's premature cancellation by ABC. Does anyone remember what a rocky debut Seinfeld had? I strongly recommend that everyone watch this show and give it a chance; you'll be glad that you did!

…

Expand

this is one of the best romantic shows i have ever watch . Writer of hangover brings us mixology a sexy , funny , romantic comedy tv . it is a

this is one of the best romantic shows i have ever watch . Writer of hangover brings us mixology a sexy , funny , romantic comedy tv . it is a wonderful show because it abot love and how 10 singles get these girls . it romantic and i will always watch this show
Grade A+

…

Expand

I decided to watch the premier of this show fully expecting it to be awful. (Admission: I am an 80 year old male whose "pickup scene" is

I decided to watch the premier of this show fully expecting it to be awful. (Admission: I am an 80 year old male whose "pickup scene" is currently extremely limited.) It appears that the series may take place in one night at a fairly upscale bar, showing relationships between a new couple each week. The show is written mostly from the young male viewpoint (note the "crass" comments from some critic's reviews). I thought the show was extremely funny with crisply written (if crass) dialog. My wife thought the show was "OK", illustrating I think the difference between male and female perceptions of "Mixology". I will definitely continue to watch the show though I have some question if it will be able to sustain its current level.

…

Expand