Network:

TNT

Series Premiere Date:

Jan 1, 2013

Season #:

1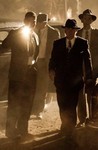 Summary:

Created by Frank Darabont, the drama is based on John Buntin's book L.A. Noir: The Struggle for the Soul of America's Most Seductive City, focuses on the Los Angeles police led by Police Chief William H. Parker (Neal McDonough) and Det. Hal Morrison (Jeffrey DeMunn) as they battle the

elements of Mickey Cohen's (Jeremy Luke) gang.

…

Expand

Genre(s):

Drama
Show Type:

In Season

Season 1 premiere date:

Dec 4, 2013

Episode Length:

60

Air Time:

12:00 AM
The period details are exquisite, aside from a couple of stray modernisms that wander into the dialogue here and there.... But the brilliance of the series is the balancing act of the scripts, by Darabont and Buntin, executed with astonishing precision between the past and the modern version of the past.

Mob City is smart, stylish, sexy and altogether addictive.

While Mob City does have its weaknesses, including patches of starchy dialogue, it offsets them with some magnetic performances.

Holliday Grainger is an excellent Bonnie.... Emile Hirsch, a very good actor, plays Clyde as a passive nonentity.... Bonnie and Clyde seem as remote and illogical as another notorious couple of the era, Wallis Simpson and the Duke of Windsor. [16 Dec 2013]

Mob City at best is barely above average drama from a guy who presumably is still capable of far better. Boardwalk Empire it's not. Not by a long shot -- or even a rat-a-tat-tat.

From its smoky night clubs to its fleabag dives, there's no doubt Mob City looks good. But in this case, looks aren't enough, particularly when too many of the details seem more studied than lived in.

Mob City fails to make connections between now and the repercussions of the '40s, say, the marginalization of democratic debate, the pathologizing of women's agency and autonomy, and the hysterical politics of fear and insecurity in an increasingly global economy. These daunting themes remain off screen here, leaving only a series of monotonous conversations and shoot-outs.
A fantastic show nothing short of amazing. Really captures the feel of film noir. The acting is also very good. I love mafia series and this

one has got to be the best I've seen so far. It also has some mystery elements behind it. It is a long premeire with a 2 hour and 11 minute runtime but its a great worthwhile watch. I just wish it was a whole series rather than a mini series because a show this high in quality of acting, performances, action, story, and mystery deserves more. Bottom line watch tho show if you love noir or mafia movies or shows it does not disappoint.

…

Expand

I feel that a lot of people judge shows unfairly today. The show didn't even have a full season to flush things out. That being said I think

It is what Rockstars LA Noire should have been. It was a little slow at first but it could be something really special. People shouldn't write it off just yet. I have faith that Frank and his team will definitely Up the ante in season 2. Hopeful they will renew it for a second season. I would be really disappointed if they don't. It is very stylish & addictive. I think most of the cast did very well and I am very excited to see whats to come.

…

Expand

It was a cold and rainy night when this mug walked into my front room and turned my TV on. The show was new, "Mob City" was the name. He

smiled and settled in. I didn't say no since he brought me some great silk stockings. I'm a girl that knows which side her bread is buttered. We watched together. It was just what a girl needs, a great guy and an awfully good show.

…

Expand

The show is just way to boring for me. In addition the music in itself is enough to turn me away from this show since I cant stand that kind of music.