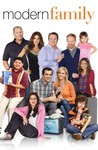 Creator:

Steven Levitan, Christopher Lloyd (II)

Show Type:

In Season

Season 1 premiere date:

Sep 23, 2009

Episode Length:

30

Air Time:

09:00 PM
This remains far and away the best prime-time sitcom: crisp and farcical, but very kind. [25 Oct 2010, p.37]

Modern Family has the finest cast of any new fall show and, thank goodness, this excellent comedy gives these talented performers the kind of sharp material they deserve.

Long on heart, brimming with great characters, smartly cast, expertly written and funny from start to finish, Family is the obvious choice for best new fall comedy--and possibly best series.

The best of the bunch, and the best new series of the fall, comes first.

Modern Family is sharp, timely and fresh, complicated enough to be interesting but with a soft, sweet center because, and I'm speaking loudly so even cable channels can hear, there is nothing wrong with that.

The pacing of the show's jokes, which heralds a welcome respect for the quickness of the audience, helps all the humor pop. Of course, good-old dumb physical juxtapositions don't hurt, either.

With its deft writing and sharp performances, the show is a telling snapshot of how families live now.
A breath of fresh air in the comedy genre. The whole cast is likeable and the writing is superb. The best comedy on TV right now. If you

A breath of fresh air in the comedy genre. The whole cast is likeable and the writing is superb. The best comedy on TV right now. If you haven't watched this yet then you are missing half your life, and I mean it.

…

Expand

This is the only network comedy that I genuinely look forward to.

I came on here expecting rave reviews, I simply do not understand how some people can rate this show poorly, it's laugh out loud funny and by

I came on here expecting rave reviews, I simply do not understand how some people can rate this show poorly, it's laugh out loud funny and by far in a way one of the best new comedies I've saw in a long time. Those people who don't find it funny obviously have no sense of humour.

…

Expand

Makes me laugh every week. Reminds me of The Office and Arrested Development. My one gripe is that the mockumentary style has been used too

Makes me laugh every week. Reminds me of The Office and Arrested Development. My one gripe is that the mockumentary style has been used too much lately.

…

Expand

Modern Family combines a strong cast with good writing. Ed O'Neil and Julie Bowen have been doing this for years, and their experience really

Modern Family combines a strong cast with good writing. Ed O'Neil and Julie Bowen have been doing this for years, and their experience really helps give the rest of the somewhat newbie cast a lift. In Season 2 you can really see the effect as some of the less experienced cast members come into their own. The mockumentary style worked for the Office, and it works for Family, especially the irrepressibly clueless Phil Dunphy. In a sea of mediocrity, Family stands out ... just ask your friends.

To be fair, there are a couple of minor issues with the show: the child actors, with the notable exception of Rico Rodriguez, are average (will improve with time), and the intelligence level in the story-lines is also average, but compared to shows like Two and a Half Men, it's a godsend.

…

Expand

This series is on par with grandiose abomination. It is Damaging Children (tm) for profit. Children deserve both a mother and a father.

This series is on par with grandiose abomination. It is Damaging Children (tm) for profit. Children deserve both a mother and a father.

All forms of human trafficking are EVIL.

…

Expand