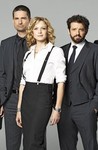 Starring:

Lauren Holly

,

Kristin Lehman

,

Roger R. Cross

Summary:

The killers and victims are shown at the beginning of each episode of the imported Canadian mystery series as Detective Angie Flynn (Kristin Lehman) and her partner Detective Oscar Vega (Louis Ferreira) seek to discover who and why the killer(s) did it.


Genre(s):

Drama

,

Suspense
Creator:

Daniel Cerone

Season 1 premiere date:

Feb 3, 2013

Episode Length:

60
Motive isn't ingenious enough to motivate imitations or spinoffs, but it's smooth and diverting. [27 May 2013, p.40]

Its nonlinear, whydunit approach makes the show stand out. The fractured loop-de-loop narrative creates not just surprise but suspense.

It's a reasonably involving series made better by the chemistry between the two leads.

Instead of being a whodunit, Motive is a "whydunit," which, except for the appeal of the show's star, amounts to a "whocares."

Lehman is good, most everything's OK, but nothing is especially fresh or compelling.

There is really only one reason to watch ABC's Canadian-import place-holder crime drama Motive--Kristin Lehman.

You've heard of open-and-shut cases. Motive is more like open and yawn.
Set in and around Vancouver, this police crime show is fun to watch. I like the single story plots (no long-term subplots to struggle with

Set in and around Vancouver, this police crime show is fun to watch. I like the single story plots (no long-term subplots to struggle with interminably through. Nice plot twists. Good chemistry between all the lead characters. A pleasant change from today's heavy cop shows.

…

Expand

The series is entertaining. That is what it should be. If your are looking for art, change the channel, if you are looking for yet another

The series is entertaining. That is what it should be. If your are looking for art, change the channel, if you are looking for yet another entertaining, scripted crime drama you will like it. The victim and the killer are identfied at the start and the series is called "Motive", i.e. the "why" is the center of the plot. A little surprise, a little humor, a little "homicide cops & killer". Not boring, not "end guessable" and a must for hard-core Stargate- /SGU-fans.

…

Expand

not much twist, it get less interesting because the killer exposed in the beginning of the movie. there is not much up and down in the movie

not much twist, it get less interesting because the killer exposed in the beginning of the movie. there is not much up and down in the movie so after watching 3 seasons it gets pretty boring

…

Expand

Boring. The only other cops-and-robbers series that I can recall as having used this device of identifying the culprit from the git go was

Boring. The only other cops-and-robbers series that I can recall as having used this device of identifying the culprit from the git go was Columbo, and Motive is no Columbo. Once the audience knows who done it, the writers must come up with a lot more reasons to keep watching such a show than the trite banter that characterized the opening episode.

…

Collapse

The show is called Motive. Enough said. Who wants to find out how a crime happened when we already know who the killer is? That already took

The show is called Motive. Enough said. Who wants to find out how a crime happened when we already know who the killer is? That already took the fun out of it for me. I care what the motive was but the could easily be a 5 minute show. Just ask the killer what the motive was and be done.

…

Expand