Network:

HBO

Series Premiere Date:

Oct 5, 2013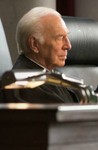 Summary:

Stephen Frears' HBO film based on the book by Howard Bingham and Max Wallace, follows the decision by the US Supreme Court (Christopher Plummer, Fritz Weaver, Peter Gerety, Harris Yulin, Frank Langella, and Danny Glover) to uphold Muhammad Ali's right to claim conscientious objector status in 1971.

Genre(s):

Drama

,

Movie/Mini-Series
Show Type:

TV Movie

Season 1 premiere date:

Oct 5, 2013
The argument for overturning Ali's conviction has nothing to do with politics or personality. Instead, it had everything to do with the legal fine print, which makes the film's climax more muted than you might hope.... The cast, led by Plummer and Langella, is so fabulous you might find yourself wondering if it isn't time for a dramatic series revolving around this Supreme Court.

Whether the film gets all the nuances right is hard for civilians to say. But round for round, the fight is surprisingly lively.

Muhammad Ali's Greatest Fight, which is based on a book by Howard L. Bingham and Max Wallace, is best when it revels in the astonishing whiteness and occasionally ridiculous ways of yesterday's high court.

As has often been the case with torn-from-yesterday's-headlines TV movies, the film is most worth sitting through for some of the performances.

Yes, it's worth watching for the historical moment it represents--particularly since that moment continues to echo through to the present--but it's less compelling than it might have been.

The actors make Muhammad Ali's Greatest Fight seem better than it is, but the real Ali, with all his youth, vigor, bravado and passion, convinces us that he and his case deserved much better.

It's not boring, thanks to strong performances by Christopher Plummer as the ailing Justice John Marshall Harlan and Frank Langella as conservative Justice Warren E. Burger. But still, the loose script, by Shawn Slovo, doesn't drive home the size and intensity of the moment.
Fantastic acting by some great actors. This story kept me glued and did not come undone all the way thru. Even thou we knew the story, the

Fantastic acting by some great actors. This story kept me glued and did not come undone all the way thru. Even thou we knew the story, the outcome and the bones of it all, the actors all came thru with a great drama.

…

Collapse