Network:

TNT

Series Premiere Date:

Jun 9, 2014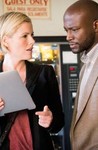 Starring:

Ian Anthony Dale

,

Steven Weber

,

Taye Diggs

Summary:

The entire season of the Steven Bochco police drama follows the investigation by San Francisco homicide detectives Terry English (Taye Diggs) and Hildy Mulligan (Kathleen Robertson) of two murders that may be linked.

Genre(s):

Drama

,

Action & Adventure
Please enter your birth date to watch this video:
You are not allowed to view this material at this time.
Murder in the First looks to have sturdy underpinnings. Bochco at this point has been around too long to learn entirely new tricks. Still, this is easily his best new series since NYPD Blue tried to break molds more than two decades ago.

While this new show is not as innovative as its predecessor ["Murder One"], it is, in its own way, similarly well paced and compelling.

Murder in the First, a masterfully paced balance of tricky whodunit and character development, seems to have benefited from both Bochco's hits and the misses, as well as the cable-led experimentation with shorter seasons.

The previewed hours establish the series as crisp and watchable, while perhaps shrewdly shifting and expanding the earlier show's lens from defense attorneys to the detectives assigned the case.

The characters may be shallow, but that doesn't keep the show from giving the easy pleasures of reading a quickie mystery novel. And a few of the actors are entertaining despite the limitations of the script.

That no one acts in a manner remotely plausible during Murder in the First, regarding either the law or human life, will have viewers feeling like they're just being moved through the system.
Taye Diggs has never been better, but the entire cast shines.The plot takes some unexpected twists and thankfully does not fall into formulaic

Taye Diggs has never been better, but the entire cast shines.The plot takes some unexpected twists and thankfully does not fall into formulaic traps of a CSI or SVU. Much as we love those shows, who can't predict what will happen next.. Let's hope TNT renews this one.

…

Expand

not too many shows I get interested in, but this is one I really enjoyed. Taye Diggs is an good actor. I think the show was a nice change

not too many shows I get interested in, but this is one I really enjoyed. Taye Diggs is an good actor. I think the show was a nice change from the rest of the police series.

…

Expand

I've been a Steven Bocho fan since Hill Street Blues but even I have to admit a lot of Steve's work leaned on melodrama and quirky characters.

I've been a Steven Bocho fan since Hill Street Blues but even I have to admit a lot of Steve's work leaned on melodrama and quirky characters. Murder In The First is his best work to date even topping the legendary NYPD Blue. The secret is in the ingredients. The cast is amazing. Taye Diggs and Kathleen Robertson hit just the right notes. No over the top histrionics. Just good ole fashioned police work with all the frustration and sadness that comes along with it. Every episode takes you on a roller coaster ride of emotions. I don't know if it's ground breaking television given the recent slate of epic shows presented to viewers but it's certainly engaging television. Well done Mr Bochco.

…

Expand

This review contains spoilers, click expand to view.

Taye Diggs is excellente, makes the show. Blond lead is terrible, she can't act, looks constipated in every scene, there's no chemistry between her Taye. The Lt is also a bad actor but now that Taye has temporally replaced him, hopefully they will kill him off. Glad they got rid of the District Attorney of the first season. The woman attorney that may take role of the surviving kid, is a good actress, but do we need to have a kissing lesbian relationships in a crime show? Lets stop trying to be P.C. and write a good crime story! I record the show so that I can ff what I don't like Keep in mind that your channel attracts mature intelligent viewers. The story is good and with two exception, the acting is good.

…

Expand

I have grown to love CBS crime shows because they wrap up in one episode--often with one, longer running story throughout many episodes (think

I have grown to love CBS crime shows because they wrap up in one episode--often with one, longer running story throughout many episodes (think The Mentalist)--but Murder in the First is quite the opposite of CBS crime dramas! I was very much looking forward to another Bochco drama but am sorely disappointed that it comes off as almost a bit "soap opera like." I am already saying to myself, "enough already--solve the case--enough enough with the birthday parties, the home lives of the actors, etc. I want a good whodunit, and Murder...certainly isn't that!" I was a great fan of The Closer and never miss Major Crimes. I know Steven Bochco can do better! Even if Erich Blunt didn't do it, does anybody really care enough about the egotistical narcissist to care if he's convicted? And the show's hung its hat solely on us caring about justice for him? LOL

…

Expand

Not worth watching. The writing is so bad and disjointed I didn't even make it through the pilot. Normally I don't write reviews, but

Not worth watching. The writing is so bad and disjointed I didn't even make it through the pilot. Normally I don't write reviews, but couldn't help it cause this TV show makes no sense.

…

Expand