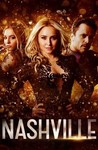 Starring:

Hayden Panettiere

,

Oliver Hudson

,

Charles Esten

Summary:

Veteran country singer Rayna James (Connie Britton) goes on tour as newcomer Juliette Barnes (Hayden Panettiere) seeks to be the new star.

Genre(s):

Drama

,

Music
Creator:

Callie Khouri

Season 1 premiere date:

Oct 10, 2012

Episode Length:

60
Please enter your birth date to watch this video:
You are not allowed to view this material at this time.
Nashville is the best new show of the fall. [29 Oct 2012, p.37]

It has Emmy caliber performances from its two leads and an authenticity that won't quit.

Happily, Nashville, with its unexpected intelligence and surprisingly low-key attitude, not only met all my cockamamie expectations, it exceeded them.

It all blends together in an entertaining, easily digestible hour.

Nashville falls somewhere in between the two extremes, a story that thrives on heightened melodrama and big twists but gives its characters more depth than you generally find in network lather-fests.

While plenty of Nashville is compelling, detailed, and beautifully acted, plenty of it feels boilerplate.
I had about given up on TV with the senseless reality shows...til Nashville came along. I am a professional musician..this show is incredible.

I had about given up on TV with the senseless reality shows...til Nashville came along. I am a professional musician..this show is incredible. Music, the acting...these actors sing better than most of the mega stars and the acting is a 10. Great writing, great casting. I believe in TV again. Way to go, this show is tops.

…

Expand

I love this show!! It is the topic of conversation with several friends. Also have the CDs. The music is awesome and one of the most decent

I love this show!! It is the topic of conversation with several friends. Also have the CDs. The music is awesome and one of the most decent shows on tv

…

Expand

Nashville is the best new series on TV this season. It is extremely satisfying to see broadcast TV get the music business right - or even

Nashville is the best new series on TV this season. It is extremely satisfying to see broadcast TV get the music business right - or even mostly right. The characters have depth I've rarely seen in commercial television, and the actors are all pitch perfect. This show has everything you'd want - social relevance, human angst, love, honor, duty....... It's all there. I hope future episodes match the stellar beginning of its first few - and I hope the network has the sense to keep renewing it. This is a must see. Bravo!

…

Collapse

It's hard to know where exactly this show will go, but so far I have seen a lot of promise. Connie Britton is the new Candice Bergen, she's

It's hard to know where exactly this show will go, but so far I have seen a lot of promise. Connie Britton is the new Candice Bergen, she's just electric.

…

Expand

When I first saw the promos for Nashville I thought it looked really good. Now I like some country music but I'm not exactly a real country

When I first saw the promos for Nashville I thought it looked really good. Now I like some country music but I'm not exactly a real country music buff. So while I liked the actors who were in it from the start I wasn't exactly sure how long I would be hanging in because of the country music theme. The cast is great. I love Connie Britton and Hayden Panettiere. They're both terrific. Except for the storyline involving Kimberly Williams Paisley's character, I'm invested in the stories. I hope this show is around for a while.

…

Expand

I am by no means a country music lover. But I am proud to say that Nashville has given me a new respect for the genre. By far one of the best

I am by no means a country music lover. But I am proud to say that Nashville has given me a new respect for the genre. By far one of the best new dramas in recent history.

…

Expand

I sincerely tried to watch this show. I watched the first show and was bored to tears. I tried the second episode and was so bored that I

I sincerely tried to watch this show. I watched the first show and was bored to tears. I tried the second episode and was so bored that I could not make it all the way through. It is a very nitch show and I am not part of that group. God Bless ya if you can sit through this hour of misery every week.

…

Expand