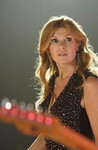 Summary:

Veteran country singer Rayna James (Connie Britton) goes on tour as newcomer Juliette Barnes (Hayden Panettiere) seeks to be the new star.

Genre(s):

Drama

,

Music
Show Type:

Between Seasons

Season 1 premiere date:

Sep 1, 2012

Episode Length:

60

Air Time:

10:00 PM
Nashville is the best new show of the fall. [29 Oct 2012, p.37]

It has Emmy caliber performances from its two leads and an authenticity that won't quit.

Happily, Nashville, with its unexpected intelligence and surprisingly low-key attitude, not only met all my cockamamie expectations, it exceeded them.

It all blends together in an entertaining, easily digestible hour.

It's a high-class entertainment that takes its locale and its characters seriously and treats the audience to some enjoyable music along the way.

While plenty of Nashville is compelling, detailed, and beautifully acted, plenty of it feels boilerplate.
Nashville is the best new series on TV this season. It is extremely satisfying to see broadcast TV get the music business right - or even

mostly right. The characters have depth I've rarely seen in commercial television, and the actors are all pitch perfect. This show has everything you'd want - social relevance, human angst, love, honor, duty....... It's all there. I hope future episodes match the stellar beginning of its first few - and I hope the network has the sense to keep renewing it. This is a must see. Bravo!

…

Collapse

As many have pointed out, the show is a soap opera, though an unusually deft one. Largely due to excellent writing, the characters are

convincingly complex and fallible, and the actors--particularly those playing musicians--do a good job of displaying the necessary onstage charisma while dealing with offstage tendencies and problems that are much less glamorous. What these actors don't do very well is sing. Both Connie Britton and Hayden Panettiere have sweet but small voices with no dynamics, and, though I can believe that teen and tween fans have put Panettiere's Juliette on the charts, I cannot believe that Britton's Rayna has stayed on top for a generation, especially as an interpreter of other people's songs. But, as the production of the show's songs is very slick, most viewers will like them, unaware that modern technology can make anyone sound okay. I just wish Callie Khouri had opted to hire a great country singer for Rayna's performances; then I wouldn't have such a hard time appreciating the difference between her "storied career" and Juliette's "flash in the pan." As it is, they sound more alike than different; Rayna is merely older

…

Expand

I sincerely tried to watch this show. I watched the first show and was bored to tears. I tried the second episode and was so bored that I

could not make it all the way through. It is a very nitch show and I am not part of that group. God Bless ya if you can sit through this hour of misery every week.

…

Expand
Published:

February 14, 2013

Which current TV shows have the best odds of returning, and which are likely to be canceled? We survey a group of industry experts to predict the fates of Community, Happy Endings, Vegas, Go On, The Following, Nashville, Beauty & The Beast, and more bubble shows.

Published:

November 9, 2012

ABC's country music drama has been a hit with critics, but not as much with viewers. Is there still a reason to turn in after five episodes? Check the latest critical consensus inside.