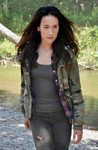 Starring:

Melinda Clarke, Xander Berkeley, Lyndsy Fonseca

Summary:

Based partly on the French film that spawned an American remake and the USA cable series La Femme Nikita, CW's version begins with the ex-assassin having escaped from the secret government agency known only as The Division a few years ago. She returns from hiding to seek revenge and help

Based partly on the French film that spawned an American remake and the USA cable series La Femme Nikita, CW's version begins with the ex-assassin having escaped from the secret government agency known only as The Division a few years ago. She returns from hiding to seek revenge and help those still within the agency.

…

Expand

Genre(s):

Drama

,

Action & Adventure

,

Suspense
Creator:

Craig Silverstein

Show Type:

Ended

Season 1 premiere date:

Sep 9, 2010

Episode Length:

60

Air Time:

08:00 PM
The show promises to be sexy fun. [6 Sep 2010, p.47]

Though Nikita is certainly dark, it's not as unbearably so as the USA cable version, which was too slick and soulless for its own good. The new version feels much more like a rollicking popcorn thrill ride.

"Fun" hasn't been a big part of her job description, but she may have found some of it here.

You might remember that because Nikita is aimed directly at 24 fans. Not as ambitious nor as entertaining, it is just as decidedly unbelievable yet diverting.

Ms. Q's Nikita is only half so crush-worthy as Bionic Woman's Jaime Sommers or Dollhouse's what's-her-name, but her predicament is no less tasty.

"Doll House" covered this territory with more creativity, but we could always use another female superhero on TV. Especially one who has mastered the technology of the "lipstick bomb."

Nikita is just another bland spy drama, an excuse to put women in skimpy outfits--Alias without a heart, Chuck without the sense of humor, and Covert Affairs without the good casting.
The pilot episode of Nikita was very entertaining. It was fast-paced, action packed and had a really interesting concept. Perhaps what's most

The pilot episode of Nikita was very entertaining. It was fast-paced, action packed and had a really interesting concept. Perhaps what's most exciting is that I haven't felt this excited about a TV show since the Lost pilot. *UPDATE* As the series has progressed, it's grown in almost every way. The writing is great, the action is brilliant and the whole production makes Nikita one of the most entertaining and intriguing shows in recent memory.

…

Expand

What a wonderful show! Exciting, intriguing, fun, and so addictive! And I love maggie q here. She is insanely beautiful, and cool- she even

What a wonderful show! Exciting, intriguing, fun, and so addictive! And I love maggie q here. She is insanely beautiful, and cool- she even does her own stunts. There's amazing chemistry between the cast members, and each actor seems to fall into place so perfectly. This is my second favourite tv show of all time, right after Friends. It definitely explores stronger issues and emotions, but this way, it creates more aspirational feelings than just feel-good humor, not entirely a worse thing. As a female, I find maggie q/nikita a great role model in terms of imparting strength, courage, wits, natural beauty, all traits that can and should change a girl into a woman. Maggie q brings to nikita all the toughness and courage of any man, but demonstrates it with such feminity and grace that is astounding. She does not have to hide behind thick makeup or dumbed down princess-in-a-castle pretence, which is refreshing and greatly welcomed.

…

Expand

Maggie Q has been nothing short of entertaining. She's no Jack Bauer but she gives enough to make me want to watch another episode. The first

Maggie Q has been nothing short of entertaining. She's no Jack Bauer but she gives enough to make me want to watch another episode. The first few episodes weren't so special but the show has slowly grown into one of the more solid shows on Monday nights.

…

Expand

Not bad so far, glad to see that we do not have to sit through how Nikita was created again. New angle is nice. It seems the women are the

Not bad so far, glad to see that we do not have to sit through how Nikita was created again. New angle is nice. It seems the women are the stronger characters these days and that is nice, but at the same time gets old and repetitive. The story has to get stronger as to why I should care about Nikita and Amanda. As of right now, I think the underground organization is pretty cool, and I want it to stick around even though they are not exactly working in the best interest of anyone but themselves.

…

Expand

The pilot episode left me thinking as to whether this show can really keep up or has the potential to stay or go . Judging by the

The pilot episode left me thinking as to whether this show can really keep up or has the potential to stay or go . Judging by the performances, I say it's a long shot . I seemed more interested at staring at young Lyndsey Fonseca & the ever-stunning drop-dead-gorgeous Maggie Q who looks perfect for the " Nikita " role . The writing could be better & not to mention character development as well as both are essential for this show to get better received & improve on ratings .

…

Expand

Meh, the season premiere was ok but its no Alias. It may develop further in the season but they need to give us characters we actually care

Meh, the season premiere was ok but its no Alias. It may develop further in the season but they need to give us characters we actually care about. All the kung fu and guns is pretty meaninless without strong characters.

…

Expand

i mean COME ON! this is formulaic drivel of the highest order and im sick of people saying "it's an easy watch and i just need to relax when i

i mean COME ON! this is formulaic drivel of the highest order and im sick of people saying "it's an easy watch and i just need to relax when i get home blah blah blah" this is absolute crap! This follows the same old play, purpose built off the production line to fog our brains and turn us all into happy apathetic drones. They roll 'em out year on year for our amusement - GIVE US SOMETHING NEW EXITING AND THOUGHT PROVOKING!! Rubicon sits on the face of Nikita!

…

Expand