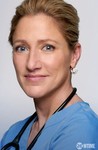 Summary:

Jackie tries to move on after her breakup with Eddie, but the pressures of working at All Saints Hospital are still not helping her quit her drug addiction.

Genre(s):

Drama

Show Type:

In Season

Season 2 premiere date:

Mar 22, 2010

Episode Length:

30

Air Time:

09:00 PM
Jackie can be a dark show, and it's going to get darker. But there isn't an episode that doesn't leave you yearning to see the next. There also isn't a performance that doesn't work.

It's a remarkable performance in its straightforward simplicity; she's like a feral animal ferociously protecting her secrets.

It's now even easier to get so caught up in the dramas that you can forget this show is really funny.

By having everyone around Jackie seem daft, quirky or incompetent--an attempt at humor, one would guess--the series never felt connected. Those elements improved by the ended of Season 1 and have, for the most part, been ironed out in the early episodes of Season 2 (though the tone will need to be monitored).

Jackie remains watchable because of Falco's no-nonsense, weary performance, and because of the off-kilter comic brilliance of Merritt Wever as Jackie's bubbly, spastic protégé Zoey.

It's a treat being able to enjoy their black comedies back-to-back Monday nights, but "Nurse" shows symptoms of a serious malady: serial recidivism. We've seen all this before. It's time for Jackie's world to come crashing down, the sooner, the bigger the laughs.

The few plot lines that don't revolve around her sex appeal--such as her older daughter becoming everything-aphobic, Eddie becoming crazy, and Dr. O'Hara (Eve Best) moving at warp speed on her self-destruction path--are all so interesting, it makes you long for more.
This review contains spoilers, click expand to view.

Better season,better performances,better writing.Edie Falco for another time did the miracle.With strong acting, rocks this party...of course with solid supporting cast.end the Emmy goes to?...guess who!...of course to Nurse Jackie

…

Expand

This show is currently airing on eleven in Australia & I think it is doing well & eleven have put Season 2 Episodes up on there website as

well. Bring on Season 3

…

Expand
Published:

January 5, 2010

Read about the biggest and best new series debuting in the coming months, find out when your favorite programs are returning, and watch trailers for over two dozen shows.