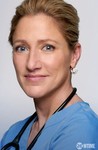 Summary:

All Saints gains two new doctors: Dr. Carrie Roman (Betty Gilpin) and Dr. Ike Prentiss (Morris Chestnut).

Genre(s):

Drama
Show Type:

In Season

Season 5 premiere date:

Apr 14, 2013

Episode Length:

30

Air Time:

09:00 PM
Sunday's opening of season five proves again that Falco makes this show, primarily by connecting all the passageways between comedy and tragedy.

Emotionally, the show's been downward-spiraling for so long, it needs a break from all the bleakness. But the introductions of two new doctors should pep things up. [12 Apr 2013, p.69]

The ensemble remains perfect, but the show's matter-of-fact crispness has been dulled. [22 Apr 2013, p.46]

But when a show reaches the level that Nurse Jackie did in Season 4, reverting to cruise control isn't enough--and Jackie is just coasting through its new run.

Falco--as always--remains one of TV's bright shining lights, but her Nurse Jackie suddenly feels like a work in progress.

Overall, it's a mixed bag as Nurse Jackie settles into what will surely be its latter years without its creators at the helm.
It's a good, but not great season of Jackie, that is a step down from the tremendous season four. We focus on Jackie's sobriety. But we're

introduced to lousy new characters (Carrie) while great ones (O'Hara) go away. The finale is pretty great, but nothing happens for episodes at a time. I'll definitely keep watching in season six.

…

Expand
Published:

January 5, 2010

Read about the biggest and best new series debuting in the coming months, find out when your favorite programs are returning, and watch trailers for over two dozen shows.