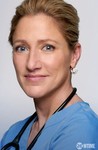 Summary:

A look at the life of an tough, imperfect, but caring New York head nurse (Edie Falco).

Genre(s):

Drama
Show Type:

In Season

Season 1 premiere date:

Jun 8, 2009

Episode Length:

30

Air Time:

09:00 PM
Once you get past the premiere, series are often a crapshoot. But Showtime made all 12 episodes available for preview, and through that run, the energy never flags and the performances get deeper and richer.

The half-hour format is perfect for this deftly directed program, which is character-based storytelling concentrated to espresso strength.

Falco's simply magnificent in a role that exploits a certain no-nonsense quality she's always brought to even the nonsensical aspects of her characters.

A splendid new addition to pay-cable's stock of dark comedies that keep a human heart beating behind the laughs.

The show's writers and producers may be trying to force-feed her to us as the health-care equivalent of the whore with a heart of gold. But Ms. Falco manages to shake off clichés and attract us to her for reasons never referred to in the script.

At times, there's a dangerous undercurrent of anti-sentimentality, a risk of sentimentalizing curmudgeonliness itself. But for all these flaws, I still found the series excitingly ambitious--funny, sexy, strange.

For all of its charms, Nurse Jackie needs to offer a little more than an enigmatic nurse and a parade of clever grouches.
A wonderful mix of comedy & drama. Falco is razor sharp with her portrayal of an overworked, yet skillful ER nurse. Showtime hits this one

out of the park!

…

Expand

I think the casting in this show is brilliant! The story line and the characters are complex and interesting. I cannot wait until next season.

Edie Falco is terrific, and the supporting characters are well-developed from the start.

I've now watched 5 episodes of 'Nurse Jackie' and my review is as follows. This is an idea put into place without a plan. With

an average of 2 laugh's per episode, it is not a comedy. With no compelling medical cases, it's not a drama. It goes without saying it was never meant to be an action thriller. Which leaves us with what lies on the surface. A show of despair with no characters we can relate to, no character we would choose to spend time with, and certainly no character we ever hope to see as care givers. I see no value to this show, entertainment or otherwise. I'm done with it.

…

Collapse

I am shocked that so many people like this show. The writing is despicably bad - my friends and I were literally howling at how

(unintentionally) bad it was. The writing is like, so OBVIOUS, just trying _so hard_ to be cool (and have you seen the theme song/intro? My lord!) but comes up painfully short.

…

Expand
Published:

January 5, 2010

Read about the biggest and best new series debuting in the coming months, find out when your favorite programs are returning, and watch trailers for over two dozen shows.