Network:

Lifetime

Series Premiere Date:

Jun 28, 2014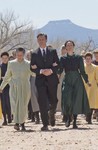 Summary:

After the death Rulon Jeffs (Martin Landau), fundamentalist polygamist sect leader Warren Jeffs (Tony Goldwyn) exerts his power over his followers including marrying over 70 women and underage girls in this TV movie based on Stephen Singular's non-fiction book "When Men Become Gods."

Genre(s):

Drama

,

Movie/Mini-Series
Show Type:

TV Movie

Season 1 premiere date:

Jun 28, 2014
Dramatically gripping and well cast, the film offers a glimpse inside the compound that has made headlines.

There's still enough of the scandal inherent to the story to keep the film from squandering its Lifetime potential. But in the hands of director Gabriel Range (Death Of A President) and the film's team of writers (basing their work on When Gods Become Men by true-crime writer Stephen Singular), it becomes more of a character study, ambling along without any true momentum to the story.

Jeff's shocking exploits could have easily filled a long-form miniseries, yet the choppy 90 minutes afforded to this story weaken the overall impact.

The movie is hamstrung in part by its focus on Jeffs, while detouring to delve into the fear and pain of the young girls forced to submit to his demands.
This is a Lifetime movie. It wasn't bad at all and acting was good. Warren Jeffs is a dick. David Keith who starred in a lot of movies in the

This is a Lifetime movie. It wasn't bad at all and acting was good. Warren Jeffs is a dick. David Keith who starred in a lot of movies in the eighties was good. The tv movie is basically about how Warren Jeffs who was a unstable cult leader who slept with all the underage girls in his religious group. This was a cult because everyone dressed the same and even drove the same type of cars. Warren Jeffs would just walk into his followers houses and nicely ask the families to give him their daughters. He needed total control so he would kick out the younger males because they were competition. It was also a cult because he isolated his followers by cutting them off from the outside influences. He ends up hauling ass because David Keith got one of his followers to speak up. Lifetime makes good movies.

…

Expand