Network:

NBC

Series Premiere Date:

Apr 9, 2009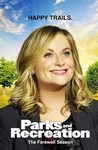 Starring:

Rashida Jones

,

Rob Lowe

,

Adam Scott

Summary:

Leslie visits Washington, D.C. as Lucy Lawless, Glenne Headly and Jonathan Banks guest star on the fifth season of the comedy.

Genre(s):

Comedy
Please enter your birth date to watch this video:
You are not allowed to view this material at this time.
Parks And Recreation: Entertainment 720
Parks and Recreation is a rare gem--a TV comedy that's sweet, good-hearted and even inspirational, but also completely hilarious.

While it's impossible not to love the competent and principled new Leslie, the character is at her funniest when she breaks from the show's easygoing pace and frenetically attempts to discharge her own anxieties by talking at the camera and protesting too much that her idealism is intact.
Parks and Recreation keeps it AMAZINGLY FUNNY! I love this TV show, it has become my favorite sitcom. It is smart, creative and, most

Parks and Recreation keeps it AMAZINGLY FUNNY! I love this TV show, it has become my favorite sitcom. It is smart, creative and, most important, funny!! Please watch this piece of art, you won't regret it!

…

Expand

Parks and Recreation is one of the best comedy's on NBC, along with a great cast. Each season gets better and better. This season is gonna get

Parks and Recreation is one of the best comedy's on NBC, along with a great cast. Each season gets better and better. This season is gonna get some more Emmy award nominations.

…

Expand

TV's funniest ensemble cast anchored by Amy Poehler and Nick Offerman delivers... SURPRISE: The best show on television. What more can you

TV's funniest ensemble cast anchored by Amy Poehler and Nick Offerman delivers... SURPRISE: The best show on television. What more can you say? Unfortunately, Parks and Rec has struggled in the ratings like most NBC sitcoms. However, adding insult to injury, it has been consistently denied countless honors that were once given to and equally funny 30 Rock. Unlike 30 Rock and The Office, Parks and Recreation is still at the top of its game as it heads into its sixth season. I expect that audiences and academy members alike will finally realize that Parks and Rec is one of the best shows on TV and give it its due recognition before it says goodbye in...2091. (please.)

…

Expand

Raunchier, sassier and emotionally charged, Season 5 proves as good as its previous seasons, only that a little less coherent in terms of plot

Raunchier, sassier and emotionally charged, Season 5 proves as good as its previous seasons, only that a little less coherent in terms of plot in the first episodes in comparison to season 4. Still, it takes everything you love about the world of Pawnee and its characters and makes it larger in scale, and it is also confident you know the world they created and starts playing with it with the return of old characters, personal jokes from each character and lots of cliff-hangers that makes the comedy so good to binge on. If you didn't watch Parks and Recreation yet, watch it. It is seriously an amazing comedy show.

…

Expand

After being underwhelmed in Season one, I grew to really love this show. The characters are somewhat predictable, and most of them have

After being underwhelmed in Season one, I grew to really love this show. The characters are somewhat predictable, and most of them have certain catch-phrases or quirks, but somehow it's done in a way that is fresh and lovable. The series I feel just keeps getting better, where other shows fall, or limp on. This season has interesting relationship issues, very funny scenes and dialogue, and leaves me wanting more.

…

Expand

One of the best shows on TV. I know many people gave up after the first season, but season 5 proves time and time again why it should be

One of the best shows on TV. I know many people gave up after the first season, but season 5 proves time and time again why it should be watched. The writing is wickedly funny and Amy Poehler consistently makes me laugh. Great show!

…

Expand

While ultimately the laughs weren't as frequent for me in this season it managed to maintain being an enjoyable sitcom that keeps me invested.

While ultimately the laughs weren't as frequent for me in this season it managed to maintain being an enjoyable sitcom that keeps me invested. The strength of this season and really the show as a whole is it's ability to make big plot moments when you least expect them.

The big moments that most sitcoms would save for a season finale pop-up regularly throughout this season. It even introduces a recurring villain character and ditches a dumb relationship from last season. It manages to make some pretty big decisions without sacrificing what so many enjoy about the show. It manages to keep that familiarity without becoming stale. Something every other sitcom struggles with when going on for this long.

The writing didn't always keep me laughing out loud this season, but it did keep me invested and very entertained. Very few sitcoms have lasted with me this long and still kept me very excited for the next season.

…

Expand