Network:

NBC

Series Premiere Date:

Apr 9, 2009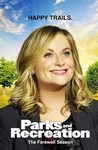 Starring:

Rashida Jones

,

Rob Lowe

,

Adam Scott

Summary:

The sixth season of the comedy opens with Leslie and the Parks department visiting London.

Genre(s):

Comedy
Please enter your birth date to watch this video:
You are not allowed to view this material at this time.
Parks And Recreation: Entertainment 720
[The premiere] rarely takes the expected route, a heartening sight from a show entering its syndication years.

Beyond blissful laughs, Parks and Recreation offers a healthy image of political cooperation at a time when we could really use it.
Entering its sixth season, I still find Parks and Recreation funny. It's probably one of my favourite comedies AND one of the best comedies on

Entering its sixth season, I still find Parks and Recreation funny. It's probably one of my favourite comedies AND one of the best comedies on television right now ...but it doesn't get enough recognition at all. It's a little sad that cast members Rashida Jones and Rob Lowe are leaving this year because they seem like the essential make up of the show and how it works. But I'm excited to see how the season progresses and how Leslie will cope!

…

Expand

This show is by far, the best comedy on television these days. It is similar to the office, and in my opinion, even better. The only thing is

This show is by far, the best comedy on television these days. It is similar to the office, and in my opinion, even better. The only thing is I don't know how this show will be without Ann and Chris.

…

Expand

Arguably the best comedy on television, Parks and Recreation continues to excel as it enters its sixth season achieving feats that few sitcoms

Arguably the best comedy on television, Parks and Recreation continues to excel as it enters its sixth season achieving feats that few sitcoms have. Its acceptance into the Comedy Pantheon is inevitable, and I look forward to seeing how this season develops.

…

Expand

This has been in my opinion the best season. There were more stand-out episodes than any other season this season "London" "Recall Vote" "Ann

This has been in my opinion the best season. There were more stand-out episodes than any other season this season "London" "Recall Vote" "Ann and Chris" "Anniversaries" "Galentines Day" "One in 8000" and "Moving Up" all being highly praised by fans and critics. The performances were also stellar, from Amy Poehler, Adam Scott, Aubrey Plaza, Nick Offerman, Chris Pratt - as well as all the terrific guest stars such as Billy Eichner, It's just such a shame next season will probably be the last, but I am glad they are going out on top and not letting the show go stale.

…

Expand

My personal favorite season so far. The humor has been excellently refined and the characters are just as charming as ever. I like how the big

My personal favorite season so far. The humor has been excellently refined and the characters are just as charming as ever. I like how the big plots are still present, but instead of taking full focus they continue on in the background. This allows each episode's individual plot feel like it's own self-contained thing. It allows the humor and little moments to flourish like never before.

Big, game changing moments still pop-up when you least expect them keeping viewers on their toes. An always appreciated element. With only one season left until it's conclusion "Parks and Recreation" gives it something to live up to with season 6. With humor and writing this on point I can't wait to see how they top it later this year. Especially with this season's ending.

…

Expand

Team Knope continues to bring love and laughs to the screen. New insides to old as new characters keeps growing – love, attachment and humor

Team Knope continues to bring love and laughs to the screen. New insides to old as new characters keeps growing – love, attachment and humor is always there for us. It's sad to see old characters leaving, but the show never lost momentum, it kept going – and both Knope, Swanson, Dwyer, Ludgate & co are all superb as always. One of the best comedies!

Overall personal rating for each episode: 74.4/100

Personal rating: 80/100
Critical rating: 80/100

…

Expand

Parks and Rec has clearly devolved from its earlier seasons. The characters have gone from quirky to two-dimensional as each character is

Parks and Rec has clearly devolved from its earlier seasons. The characters have gone from quirky to two-dimensional as each character is driven his or extreme. At this point I'm just pushing to finish this season so I can call it quits.

…

Expand