Network:

NBC

Series Premiere Date:

Apr 9, 2009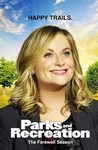 Starring:

Rashida Jones

,

Paul Schneider

,

Rob Lowe

Summary:

The mockumentary comedy follows the life of Leslie Knope (Amy Poehler), a Parks and Recreation employee.

Genre(s):

Comedy
Please enter your birth date to watch this video:
You are not allowed to view this material at this time.
Parks And Recreation: Entertainment 720
To act as if Parks has to be measured against that show's [The Office] standard gives short shrift to a genuinely funny and engaging comedy that bears stylistic similarities to "Office" but has a heart and mind all its own.

There's more than enough absurd charm in the show, meanwhile, to make the wait worthwhile.

It has a kind of sunny charm, a premise fit for a novel, and is built upon a pair of strong female leads, a rare enough thing in sitcoms. Poehler and Jones have a nice, contrapuntal rhythm. I stamp this show: approved.

This is a civil servant who has yet to be jaded, and the show is just good enough to keep you turning back in to see her unwarranted optimism curdle.

The problem with the pilot is in tone. Self-important and silly but optimistic and sweet is a hard mark to hit week after week.
I started out watching this show thinking it was an Office rip-off, and in the first few episodes it definitely feels like that. I mean, many

I started out watching this show thinking it was an Office rip-off, and in the first few episodes it definitely feels like that. I mean, many of the people who worked for The Office migrated to this show, and it's got the same talking head format. So of course I made that immediate comparison, which turned me off to it initially. But the places they have taken all of the characters, and the stories they've woven around them are just fantastic, engrossing and entertaining. After a while you feel like these people are your good friends and you're peeking in on drama in their lives. That's how it was with The Office at first, but ever since about the end of the 4th season it all started feeling really contrived and I stopped caring about the characters, and they haven't been developing them with the kind of depth that they are developing the characters in Parks and Rec. I love everyone in this cast! Ron and April really stand out to me. Also, while we're making Office/Parks comparisons, one thing that stands out about Parks is that they don't focus on just one central character like in The Office with Michael. I mean, Leslie is the central character but she does not dominate like Michael does. It really feels like an ensemble cast, rather than a lead actor and supporting actors. SO! If you were put off by the first few episodes, or even just the first season, give it another chance, you will NOT regret it.

…

Expand

absolutely hilarious, gets better each ep. this show needs to stay right where it is!

Absolutely love this show. It is always so funny and I love the cast. Amy Poehler is so cute and hilarious. The show is always fun and is

Absolutely love this show. It is always so funny and I love the cast. Amy Poehler is so cute and hilarious. The show is always fun and is great on the NBC Thursday night lineup. I hope we continue to see this show on for along time to come.

…

Expand

The show has amazing potential. While it's very "The Office" I'll have to echo the critics in saying that it will surely find its

The show has amazing potential. While it's very "The Office" I'll have to echo the critics in saying that it will surely find its own voice in the upcoming episodes. And with the immense talent of Amy Pohler, we just may have another great prime time comedy.

…

Expand

While the first season gives you nothing to keep watching, the next seasons are insanely better. You can really catch you laughing of Amy

While the first season gives you nothing to keep watching, the next seasons are insanely better. You can really catch you laughing of Amy Poehler's outstanding performance.

…

Expand

Parks and Recreation was created by a number of the people behind the US version of the office. Anyone that has seen the US Office, or the

Parks and Recreation was created by a number of the people behind the US version of the office. Anyone that has seen the US Office, or the British version for that matter, will be immediately familiar with the shows 'mockumentary' style presentation. On this occasion however the focus is on the Parks and Recreation department of local government and Leslie Knope (Amy Poehler) in particular. Poehler is certainly the star of the show and it is impossible not to feel sympathy for the ever optimistic Knope as despite her best intentions things never quite seem to go her way and her character certainly went a long way to drawing me into the show.

Fortunately, for the most part anyway, it is also fairly funny. Seeing as this first season is only six episodes long it is difficult to judge just how funny it will become, as all sit-coms need time to allow audiences to understand the characters, but it certainly has potential and I am very much looking forward to watching the full twenty-two episode second season.

…

Expand

Amy Poehler proves without a doubt that she lacks any true acting or comedic skills. One must conclude that the staying power of this show

Amy Poehler proves without a doubt that she lacks any true acting or comedic skills. One must conclude that the staying power of this show thus far has more to do with her network of NBC brass than with talent or viewership.

…

Expand