Network:

FX

Series Premiere Date:

Aug 4, 2014

Season #:

1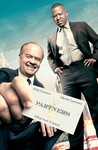 Starring:

Kelsey Grammer, Martin Lawrence, Telma Hopkins

Summary:

A court order brings high profile attorney Allen Braddock (Kelsey Grammer) in contact with Marcus Jackson (Martin Lawrence), a recently divorced lawyer who works mainly pro-bono cases.

Genre(s):

Comedy
Creator:

Robert L. Boyett, Robert Horn

Show Type:

In Season

Season 1 premiere date:

Aug 4, 2014

Episode Length:

30

Air Time:

06:00 PM
The joy here is watching Grammer and Lawrence trade barbs (and there are a bunch of them).

Partners has its share of clunkers, but Lawrence and Grammer retain their comedic timing while also pairing up nicely.

While Jackson will feel some genuine hesitation and wariness about Grammer's pit-bull personality, it doesn't feel yet like the chemistry between the actors has fully developed.

There is great chemistry between old pros Lawrence and Grammer, even if the scripts are spotty and feel about 20 years old, same-sex marriage references notwithstanding.

It's funny at times, as it would almost have to be. But it's more often vexing, like an out-of-tune guitar.

The goal of establishing them as a mismatched pair in the pilot (written and run by sitcom veterans Robert L. Boyett and Robert Horn), as well as a subsequent episode, proves stale and weakly defined from the get-go.

Get past the genuine awfulness of this--and it is awful--and a strange melancholy begins to settle in.
I love love love Partners.Although I have to b honest the first episode almost put me to sleep, but after the second show it finally picked

I love love love Partners.Although I have to b honest the first episode almost put me to sleep, but after the second show it finally picked up.I loved seeing Kelsey Grammer twirk and Martin Lawrence is hilarious as usual. That show brings back true comedy to tv , so now I cant get enough of it. I've been watching reruns like crazy.I cant wait for episode 7 Partners is my new favorite comedy.

…

Expand

But despite the fact that so far it could be both funnier and just all round better, the premiere was much more watchable than I was

But despite the fact that so far it could be both funnier and just all round better, the premiere was much more watchable than I was expecting. The banter between Lawrence and Grammer, while not particularly funny, is strangely entertaining. With the recent sitcoms to come from FX having been painful to watch, "Partners" looks like one that could actually catch on. While it's far from hilarious the strong leads in Lawrence and Grammer make for a show that looks like it has potential. Whether or not it will reach that potential has yet to be seen, but if they tighten up the humor then I firmly believe that this can be one strong sitcom that will have a faithful following.

…

Expand

I would have liked Kelsey Grammar as the smarmy lawyer or Martin Lawrence as an activist lawyer, but this show tries to mashup the two and it

I would have liked Kelsey Grammar as the smarmy lawyer or Martin Lawrence as an activist lawyer, but this show tries to mashup the two and it doesn't work. It is like peanut butter on pizza, each individually is fine but together they leave a bad taste. The timing is off between Lawrence and Grammer so jokes don't work. The premise of the show is thin and seems forced. Both are strong leads so I am willing to see if the show improves.

…

Expand

I watched the first two shows, and that's most likely the only ones I'll watch. I've removed the show from the DVR's to do list.

Mr.I watched the first two shows, and that's most likely the only ones I'll watch. I've removed the show from the DVR's to do list.

Mr. Grammer and Mr. Lawrence seem to be reading dialogs instead of acting. I know both are capable of far better. So the question lingers --- what's the problem here?

Are the main actors not engaged? Or is there nothing in the dialog to engage with?

The writing seems to be good to the occasional very good. The supporting actors are actresses are good to very good.

So the question continues to linger --- what's the problem here?

Maybe the interaction among the characters is just not there, or not right.

I wish I knew. Something is missing, and I cannot put my finger on it.

I was so looking forward to this show, and I was so disappointed.....

…

Expand

So they got it filmed and realized how unfunny it was, so they hired a guy with a machine and added a laugh track.
Producer 1: "It doesn'tSo they got it filmed and realized how unfunny it was, so they hired a guy with a machine and added a laugh track.
Producer 1: "It doesn't work."
Producer 2: "I know, but we had to do something."
Producer 1: "How much do we have in it?"
Producer 2: "Plenty, and there are contractual obligations."
Producer 1: "Ah, what the hell. Go with it, laugh track and all."
Producer 2: "I concur."

…

Expand