Network:

Showtime

Series Premiere Date:

May 11, 2014

Season #:

1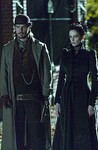 Summary:

In Victorian London, Vanessa Ives (Eva Green), Sir Malcolm (Timothy Dalton), and American Ethan Chandler (Josh Hartnett) encounter Dorian Gray (Reeve Carney), Dr. Frankenstein (Harry Treadaway) and Mina Harker (Olivia Llewellyn) in this psychosexual horror series created by John Logan.

Genre(s):

Drama

,

Fantasy

,

Horror

,

Suspense
Show Type:

Between Seasons

Season 1 premiere date:

May 11, 2014

Episode Length:

60

Air Time:

10:00 PM
What makes Penny click is the chemistry among the characters, especially the psychic and the gunslinger, who end up seducing the viewer with their seductive encounters. They make you forget this is an action show

This John Logan creation promises an intriguing summer pastime, for an eight-week run anyway.

This is, like Alan Moore's "League of Extraordinary Gentlemen," a clever exploitation of characters in the public domain. But creator John Logan's story also thrives on its own. Penny Dreadful is a beguiling examination of that space between life and death.

It's a Frankenstory made with borrowed bits and recycled parts that could evolve into its own vibrant creation.

It's weird and different enough to stick with for a little while to see how it develops.

The production and period values are outstanding, as is the cast, especially Timothy Dalton as famed African explorer Sir Malcolm Murray.... As creator John Logan moves away from the horror by the Thames and more toward the internal demons that haunt his protagonists, Penny veers toward the overwritten and overwrought. But by then, you may well be in for a pound.

Overall, it took Once Upon a Time a season to fall flat; Penny Dreadful does that immediately.
The cynic in me is dead. Long live Penny Dreadful! I do not want to sound like I am giving you a lot of hyperbole but it's difficult not to. I

have not liked a show this much since I first discovered Dark Shadows when I was thirteen-years-old.

Penny Dreadful begins with a slow burn pace but by the end of episode 2 everything had kicked into gear. I cannot put into words how well this show has taken my breath away. I would like to fully apologize for the doubts I had toward it upon seeing the early preview clips. I was utterly wrong. Nothing is what it seems and this show is the best Gothic Horror TV series I have seen in years.

After dealing with the mediocre and pandering likes of Bitten and NBC's Dracula I had all but given up hope on my favorite genre of fiction but Penny Dreadful salvaged my faith in creativity.

Penny dreadful is named for the 19th century slang term for a cheap pulp novel or serial such as Varney The Vampire or other Gothic classics that were originally often published in installments. Most of these works of literature dealt with terrifying and morbid premises and so were "dreadful" and obviously only cost a penny.

The TV series Penny Dreadful pits the likes of Victor Frankenstein, his creation, the immortal Dorian Gray (from the novel The Picture of Dorian Gray by Oscar Wilde) and the characters of Dracula all in the same late nineteenth century setting.

The show has managed to surprise me already within it's first two episodes and it keeps me guessing.

The show is well acted with impressive and realistic production values. It also bears detailed and clever writing. Subtle nods to other works of classic literature are scattered through out in delightful Easter Egg quotes and references. Also so far I have not caught a single glimpse of computer generated monster effects. No. Everything I have seen thus far has been done with skillful and realistic practical effects so that everything feels real and tactile. There is no cheap, cartoonish or watery CG to draw me out of the story.

I cannot put into words how much I love this show and hope that the third episode continues to impress me as the first two have.

…

Expand

I watched both episodes and if you like sex, violence, horror and a nice period series atmosphere you will like this show. I liked all the

main characters and it will be fun to watch the various monsters and villains integrate in future episodes. As for the critics, most have it right; yet a few of them want to kill a promising series before it gets up and running. This is a fun TV series, the real horror show is going on in Washington, so if you want to vent negativity you should have more than ample material there if you, or you employer have the guts to cover it.

…

Expand

I really love this show. It was a huge surprise for me because I don't care for these kind of shows. The show is very interesting and the plot

moves rather slow, but it's perfect that way. The acting is exceptional by all the actors especially Eva Green. The characters are complex and very compelling. Each character is shrouded in mystery and that really bodes well for this show. The story lines are very well laid out. The best part about this show are the characters. I loved almost all of the characters throughout the season. The best scenes are with Eva Green because her character is possessed and she knocks it out of the park. The action could have been improved, but the possession sequences are great. Also, I love the opening credits to the show. Great music and scenes. Overall, the show was really good and a pleasant surprise.

…

Expand

One of the most unique new shows on television. With it's excellent cast and compelling universe, there's an incredibly high level of quality

on display here. That being said the show does have it's slow moments and unfortunately has yet to scare me in any way despite the creepy tone it has established, which is a pretty big flaw for a horror series like this one to have. Still I am invested in it. After three episodes it does sometimes look like it's teetering on the edge of being something serious or something goofy thanks to some of it's characters (the inclusion of Frankenstein worried me for a bit) and some plot elements (the devil and demon plot could go either way), but as of right now it looks like a lot of concerns are unwarranted. This is a show that is often dark, disturbing, and even disgusting at times, but it is always deep and compelling. So yeah, as of right now I say this is a show worth watching. If my opinion changes as the series progresses than I'll update my review. As of right now consider this my final review.

…

Expand

Bare in mind this review is just based on the pilot - I suppose I'll do another once the show has progressed a bit. But judging from the first

episode I quite liked it. It's sort of a gothic (in the modern sense), victorian horror/fantasy... thing. Kind of hard to describe its genre actually. But it drew me in immediately and played on some fantasy/horror conventions in fresh ways. Eva Green is especially welcome and a crucial blend of creepy/knowing/sexy. The only thing that might turn some people off is the gore level - they definitely aren't pulling any punches in the blood department so if that's a problem for you you probably won't make it very far. For the rest of us it seems to me like a very worthy, and probably superior, replacement for the kind of bloody summer TV we've gotten in the past from the likes of True Blood.

…

Expand

Extremely boring and not thrilling or terrifying .Show is not scary enough maybe kids get scared ,They could have hire decent writer and an

editor with the money they have spent on Art direction.TV fans don't need this sort of show because there's too many successfull horror shows.

…

Expand
We take a look at the most notable new and returning shows headed to TV screens between now and August, including new seasons of Orange Is the New Black, Rectify, and Masters of Sex, plus intriguing newcomers like The Leftovers, Penny Dreadful, The Strain, The Knick, and Halt & Catch Fire.