Network:

CBS

Series Premiere Date:

Sep 22, 2011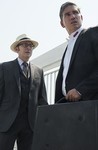 Starring:

Amy Acker

,

Taraji Henson

,

Sarah Shahi

Summary:

Reese (Jim Caviezel) is a former CIA agent presumed dead who is recruited by Finch (Michael Emerson), a mysterious billionaire, to help stop crime before it happens with the help of Finch's software.

Genre(s):

Drama

,

Action & Adventure
Creator:

Jonathan Nolan

Season 1 premiere date:

Sep 22, 2011

Episode Length:

60
Please enter your birth date to watch this video:
You are not allowed to view this material at this time.
Person of Interest separates itself from the gimmick pack, not only because of superbly nuanced characterization and writing but also because of how it engages a post-9/11 sense of paranoia in its viewers.

A gritty, almost plausible winner, and distant reflection of Stephen Spielberg's "Minority Report."

This is the rare crime drama that revels in actual mystery, its dark, paranoid tone embodied by two damaged heroes.

So far, though, it has mostly kept its ambition in check, preferring to follow the playbook of a typical crime procedural, with a little more darkness and a little less energy.

Despite the presence of Nolan (who's co-written most of his brother Christopher's films, including "Memento" and "The Prestige") and producer J.J. Abrams, this is very much a CBS crime procedural, one that could fit comfortably alongside "The Mentalist," et al. But it would help an awful lot if Caviezel had a few Red Bulls first.

Ultimately, Person Of Interest is built on too cockamamie of a premise to be taken seriously.

There isn't a single interesting person in CBS's dud-on-arrival Person of Interest; at best, there's only a single interesting idea.
Great, Great, Great Show! A mix of science fiction, drama, action, espionage, etc., etc. I'm sorry for those of you who don't get it. There

Great, Great, Great Show! A mix of science fiction, drama, action, espionage, etc., etc. I'm sorry for those of you who don't get it. There are no show like this one. Basically you have "at least" one imperfect person helping others.

…

Expand

I just saw my first episode, and I like it immensely. I have been a fan of Jim C. for years. Unfortunately, I don't think it will last for

I just saw my first episode, and I like it immensely. I have been a fan of Jim C. for years. Unfortunately, I don't think it will last for the average viewers, but I hope I am wrong. I will not miss it, and I do not watch many shows.

…

Expand

i love this show. It reminds me of a show from about 20 years ago called The Equalizer. Whenever justice is served and in this case with

i love this show. It reminds me of a show from about 20 years ago called The Equalizer. Whenever justice is served and in this case with creative ingenuity I relish the outcome. The bad guys are dealt with and the good guys are the winners albeit some grey is tossed in to heighten authenticity.

…

Expand

Great story line. Jim C makes a great tv Jason Bourne and Ben was the best actor on Lost. Quickly becoming my favorite show because of the

Great story line. Jim C makes a great tv Jason Bourne and Ben was the best actor on Lost. Quickly becoming my favorite show because of the acting, story lines and the introduction of a series of new characters that reappear.

…

Expand

A refreshing and thought-provoking commentary on government surveillance and privacy, Person of Interest started out as a pseudo-CSI

A refreshing and thought-provoking commentary on government surveillance and privacy, Person of Interest started out as a pseudo-CSI procedural and has slowly turned into an exciting cyber-thriller with a great central storyline. It's got some great actors (Jim Caviezel, Micheal Emerson) and writers (John Nolan), and has easily become the best show on network television. If you haven't seen this in a while, or were turned off when you first saw it three or four years ago, you should definitely try this show again. It's totally worth it.

…

Expand

Extremely promising show, thoroughly enjoyed the season premiere wasn't what I was expecting at all. Think of it as Minority Report meets

Extremely promising show, thoroughly enjoyed the season premiere wasn't what I was expecting at all. Think of it as Minority Report meets Bourne and you wont be far wrong. :)

…

Expand

I'm pretty tolerant, but we really don't need a revenge fantasy masquerading as moral nobility. I was going to take off 2 points for

I'm pretty tolerant, but we really don't need a revenge fantasy masquerading as moral nobility. I was going to take off 2 points for unrelenting grimness, but had to take off 8 more for its sense of right and wrong. Even if it is TV.

…

Expand