Series Premiere Date:

Feb 28, 2013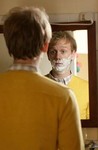 Summary:

20-year-old Josh (Josh Thomas) is dumped by his girlfriend, explores his sexuality and deals with demands from his family in this Australian comedy.

Genre(s):

Comedy

,

Drama
Season 1 premiere date:

Aug 1, 2013

Episode Length:

30
Please Like Me, unlike the much-praised millennial comedy "Girls," feels unpretentious and natural with fully-realized characters rooted in reality.

It's not only the charm of the characters that raises "Please Like Me" above the lazy comparison. The series is also funny.

The humor is subtle, almost deadpan, but brilliant at every turn. Some moments become excruciating to watch, only because we've formed an immediate affection for Josh and hate seeing him screw things up for himself.

The pilot episode is more amusing than hilarious, but it's often delicately funny thanks to Mr. Thomas' odd duck character and his reactions to those around him. When Geoffrey (Wade Briggs) hits on him, he's flummoxed.

Much of the show's appeal lies in the cast's shaggy, naturalistic chemistry, which papers over the occasional imperfect plot turn.
Its an incredibly warm and quirky show. There's a ton of dark humor and awkward situations but every episode ends on a high note. This show

Its an incredibly warm and quirky show. There's a ton of dark humor and awkward situations but every episode ends on a high note. This show quickly becomes an obsession can't wait for season 2.

…

Expand

One of the best comedy shows on television. The lead actor is truly exceptional. This show needs to be more popular. The comedy is smart,

One of the best comedy shows on television. The lead actor is truly exceptional. This show needs to be more popular. The comedy is smart, witty and well written.

…

Expand

This show offers one of the best portrayals of gay characters on TV without sticking to stereotypes that are not true. It combines both funny

This show offers one of the best portrayals of gay characters on TV without sticking to stereotypes that are not true. It combines both funny and emotional elements and keeps you entertained.

…

Expand

I liked this show a lot. It really nails the awkward moments of dating, and the characters feel like real people instead of supermodels reading lines.

All the characters are well thought out and quirky in their own way, and Josh is perhaps the most realistic depiction of a gay character

All the characters are well thought out and quirky in their own way, and Josh is perhaps the most realistic depiction of a gay character currently on TV. I love the kind of humor this show has, and the show really delivers when it comes to hilarious awkward situations.

…

Expand

Based on the pilot, Please Like Me falls in the depressing comedy genre along with series like Louis. It's kind of funny sometimes, but

Based on the pilot, Please Like Me falls in the depressing comedy genre along with series like Louis. It's kind of funny sometimes, but everyone is low-key and uncomfortable, and it makes me feel trapped. The performances have a certain casual realism to them, but the only performance I actually enjoyed was the son's caustic second wife. She gave about two minutes of bright, sharp humor that was a relief.

I don't plan to watch any more of this one.

…

Expand

Politically correct, self-indulgent, and saccharine, this snore-fest is more enamored with itself than it is with entertaining the audience.

Politically correct, self-indulgent, and saccharine, this snore-fest is more enamored with itself than it is with entertaining the audience. The lead comedian is a third rate wannabe in Australia whose only notoriety comes from trading on his sexuality rather than any actual talent.

…

Expand