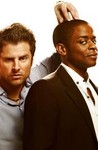 Starring:

Cary Elwes

,

Timothy Omundson

,

Corbin Bernsen

Summary:

Paired with "Monk" in USA's Friday night lineup is this new dramedy about a Santa Barbara detective who poses as a psychic in order to explain his incredible observational skills.

Genre(s):

Comedy
It's not only laugh-out-loud-until-soda-squirts-out-of-your-nose funny, but it's also perfectly cast.

If you like "Monk," you'll probably love this show, which may actually be even more enjoyable.

It takes itself seriously pretty much not at all, which is precisely what we want at 10 p.m. on a summer Friday.

Can you enjoy a show without liking the main character? Psych puts that unnecessary challenge to viewers.

"Psych" isn't nearly as much fun as it ought to be, offering a breezy but not particularly captivating twist on a very well-worn buddy formula.

Psych is a one-trick pony that quickly deteriorates into a rather humdrum mystery once the novelty of watching Spencer fake his psychic revelations wears off.
Omg......with a cute actor like Roday. It is a great takes on a "psychic"

Perfect show! Sarcastically hilarious! The way Roday and Hill work together just crack me up too! I couldn't WAIT for the first season

Perfect show! Sarcastically hilarious! The way Roday and Hill work together just crack me up too! I couldn't WAIT for the first season to come out, and now I've got it! Funnier than Monk, in my opinion, but then again, I am a sarcastic person. That's why it appeals to me more than Monk.

…

Expand

I have been an avid TV watcher my whole life and this show probably my favorite of all time!

great show, well written with an excellent cast. I love watching this show and eagerly wait for the new episodes to come out

This is by far one of the best shows i have watched. The writing is absolutely brilliant. Its not just funny, its "OFF THE HOOK" funny. Its

This is by far one of the best shows i have watched. The writing is absolutely brilliant. Its not just funny, its "OFF THE HOOK" funny. Its "COMPLETELY NUTS", funny. The show is about a slacker called Shawn Spencer who has developed great observational skills because of intense training from his father who has worked as a Policeman for the Santa Barbara Police Department. Shawn has a passion for solving mysteries and gives tips to the SBPD for both, the passion and the reward money. He accidentally starts to work as a Psychic consultant to help the homicide division tackle complex murder mysteries. Please do watch the Pilot before watching any other episode. It will all fall into place. I do not want to give away the spoiler. The show is very post modern, if you will and each and every character is so well defined and likable. That, coupled with all the pop culture references in both a positive and a negative light, the hilarious father son relationship and the complete madness between Shawn Spencer and Burton Gustor, his best friend, who also works as a Pharamaceutical Sales Representative, pulling Detective Lassiter's case all the time, Buckets of nice sweet love stories (devoid of that idiotic sexual tension that one sees usually in any drama on TV these days) and lastly, the pure detective work based on attentiveness, astute observations and instincts without the use of fancy, over the top scientific machines and equipments that help you solve identities and what not, makes this one the best detective shows, of course, as always, after COLUMBO. The beauty of the show is that while watching, you don't care so much about the case, as its all just about the humor and the characters. The show is based on Crime in Santa Barbara. The city is known to have the least crime rate, possibly none. You probably don't even need a homicide division in SB. I think that's the irony and the point of the show. That itself should give away the humor ride you are in for when you start to watch the show. While it is based in Santa Barbara, the show is shot in White Rock, British Columbia, Canada. The cinematography is beautiful, the music selection and the back ground score is really nice and the acting is flawless. It's a must watch if you are into witty humor!!

…

Expand

WOW!! I loved Psych. The charecters are amazing. THis show is 10x better than MOnk YOU WILL LOVE IT.

this show is so painfully stupid it makes me cringe just to see the commercials for it. how can USA carry a brilliant show like Monk and fall

this show is so painfully stupid it makes me cringe just to see the commercials for it. how can USA carry a brilliant show like Monk and fall for this waste of time?

…

Expand