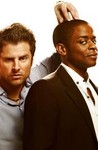 Starring:

Cary Elwes, Timothy Omundson, Timothy Omundson

Summary:

Paired with "Monk" in USA's Friday night lineup is this new dramedy about a Santa Barbara detective who poses as a psychic in order to explain his incredible observational skills.

Genre(s):

Comedy
Creator:

Steve Franks, Dwayne Burgess

Show Type:

Ended

Season 1 premiere date:

Jul 7, 2006

Episode Length:

60

Air Time:

10:00 PM
It's not only laugh-out-loud-until-soda-squirts-out-of-your-nose funny, but it's also perfectly cast.

"Psych" is one of those happy collisions of an intelligent script and an appealing cast.

As with Monk, the crime is largely an afterthought. Psych similarly serves up murder as a fluffy soufflé, but what a tasty way to end the week.

"Psych" isn't nearly as much fun as it ought to be, offering a breezy but not particularly captivating twist on a very well-worn buddy formula.

Better show title? Monk for Morons.

A second-rate knockoff of what's not quite a first-rate fabrication itself.
Psych keeps my husband and I laughing and guessing.

Perfect show! Sarcastically hilarious! The way Roday and Hill work together just crack me up too! I couldn't WAIT for the first season

Perfect show! Sarcastically hilarious! The way Roday and Hill work together just crack me up too! I couldn't WAIT for the first season to come out, and now I've got it! Funnier than Monk, in my opinion, but then again, I am a sarcastic person. That's why it appeals to me more than Monk.

…

Expand

The only show I will buy from iTunes if I miss an episode. Totally funny and fun.

Best Show on Cable. Don't listen to the negative reviews. They are a web of LIES!

Fun show, perfect cast, rapid-fire dialogue. Most enjoyable new show I've seen in a long time.

this show is so painfully stupid it makes me cringe just to see the commercials for it. how can USA carry a brilliant show like Monk and fall

this show is so painfully stupid it makes me cringe just to see the commercials for it. how can USA carry a brilliant show like Monk and fall for this waste of time?

…

Expand