Network:

FOX

Series Premiere Date:

Jan 23, 2014

Season #:

1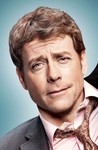 Summary:

A remake of the Australian series of the same name, Keegan Deane (Greg Kinnear) is a self-destructive defense attorney who butts heads with his ex-wife (Miranda Otto), his friends Ben (John Ortiz) and Scarlett (Necar Zadegan), as well as his bookie and even the IRS.

Genre(s):

Comedy

,

Drama
Show Type:

In Season

Season 1 premiere date:

Jan 23, 2014

Episode Length:

60

Air Time:

08:00 PM
Kinnear is solid, but his Keegan is a work in progress--both as human being and TV character.

Kinnear is great in the role because he doesn't look like a loser--quite the opposite--and that's important.... Perhaps because this is the pilot, most of the episode is devoted to showing Keegan screwing up and only a few afterthought scenes focus on Torrant's case. In order to succeed from week to week, the series needs more than just a lot of figurative pratfalls.

Kinnear carries himself ably, and his character's amiable rogue presence wears fairly well for starters. The long haul may be problematic, though.

There might be a good drama in Rake, but right now the jury is still out.

While tonight's first episode of Rake (the only one given critics, besides an earlier version of the pilot that was remade since last spring) is--well, rakishly--amusing, it's not really enough to give a sense of what kind of show this will be, and whether it's worth sticking with.

Rake is a little bit like the bad Sundance movie version of a procedural, a sturdy genre project tricked out with twee and antic detailing, in the hopes you will find all the appended doohickeys sharp and adorable and not notice how predictably the story is chugging along.
This show is amazing - not surprised that the geniuses running Fox have not opted to continue it. The same bunch of idiots that cancelled

Firefly - need I say more..... Well yes, one more thing. Did I see a post by some dumb-ass that actually refereed to a show starring James Belushi and Jerry O'connell? Really? Kangaroo Jack? No wonder Fox News is so popular.

…

Expand

so far so good I love

it..................................................................................................................................................................................................

…

Expand

The story line seems kind of flat so far, I can't be overly excited either way just yet. Kinnear out acts every one by about a million miles.

The story line needs to pick a direction, are we watching someone fall apart because of his bad habits, or are we watching the champion lawyer despite his flaws...get somewhere so we can keep watching.

…

Expand

A middling legal dramedy that spends too little time in the courtroom and too much time focusing on awkward, awful people doing awkward, awful

things to, for, or with each other. The American Rake is yet another in a long line of shows that confuses blatant, offensive insensitivity and a lack of common sense for comedy. Nearly every character on the show is some combination of selfish, inept, insensitive, or insecure, and nothing else. The main character is allowed to show some redeeming qualities, but it's almost invariably followed by him making some decision that is either dictator levels of selfish or moronic to the point of endangering his own health, both of which always wind up blowing up in his face. Incredibly frustrating, in other words. Though there are some storylines that have a degree of interest to them, the show is dragged down too strongly by the aforementioned problems. This is another one of those hour-long shows I can watch in 15 minutes: after I fast forward through all the awkward bits, painfully stupid bits, and frustratingly selfish bits, there's maybe 15 minutes of show left.

…

Expand

The main character is wholly unlikable and the devices used to ensure he stays forever in gambling debt are frustrating to no end. His

collectors are forever disappearing after one episode and every time Keegan gets some money, he loses it in preposterous manners which have nothing to do with his gambling addiction (for example, he puts off delivering a $15k fish for three days for no good reason, allowing it to rot or trying to impress his ex-wife at a private school's fundraiser or paying for a prostitute). The only enjoyable part of this show are the cases, and even those are played more for humor than to exhibit any form of brilliance on Keegan's part. This show is nothing like House, save for a string of ill-advised relationships.

…

Expand

The original Australian version, going into it's 3rd season is really the >only< version of this series.

During the Americanization process, the soul of the show was lost in translation. Ideally, FOX would've just bought the rights to the original version and aired it in the states.

Sorry US audiences, you get the homogenized copy :-(

…

Expand