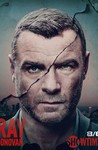 Starring:

Paula Malcomson

,

Dash Mihok

,

Katherine Moennig

Summary:

The problems and possible scandals of the rich and famous disappear when they hire Ray Donovan (Liev Schreiber). However, the return of his ex-convict father (Jon Voight) brings unresolved issues Ray may not be able to fix.

Genre(s):

Drama

,

Action & Adventure
Creator:

Ann Biderman

Season 1 premiere date:

Jun 30, 2013

Episode Length:

60
Please enter your birth date to watch this video:
You are not allowed to view this material at this time.
[A] superbly tawdry new crime series. [8 Jul 2013, p.35]

[Creator and writer Ann Biderman has] created the most testosterone, rough and intelligent drama in ages.... Early sneaks of Ray Donovan hinted that Showtime might have a real gem on its hands, but four episodes provides an absolute exclamation point.

This could be the start of something great. In just a handful of episodes, it's already powerfully terrific.

Viewers may find it takes some concentration to sort out the lineup and the dramas here. The payoff is worth the investment.

The first four episodes supplied to critics are engaging, but especially in the aftermath of his passing, the shadow of James Gandolfini is, sadly, everywhere.

Though I do not begrudge Ray Donovan its sense of momentum or tension, I was immediately struck by a desire to simply see more of Ray doing his job for a few episodes rather than seeing him deal with his brothers' various problems.

Much of the show simply feels disjointed, or tired, or both. Despite intermittent flashes of liveliness, the pacing of Ray Donovan is off, especially at first, when it feels as though the show is trying to cover too much ground and cram in too much backstory about the Donovans' troubled past in Boston.
The best new show this season. Has a feel like the early Sopranos but in a west coast setting. First two episodes caught and held our

The best new show this season. Has a feel like the early Sopranos but in a west coast setting. First two episodes caught and held our attention---good guy "villain", rough upbringing, family tensions and believable cast.

…

Expand

As I was checking the episode guide for season 2 I noticed U.S. ratings are ranging 1.5 million, I am in shock. Ray Donovan is an emotional

As I was checking the episode guide for season 2 I noticed U.S. ratings are ranging 1.5 million, I am in shock. Ray Donovan is an emotional and action pack crime drama series, if you're not watching it you're definitely missing out. The acting, directing, storyline, production, etc...is amazing! Glad to know it has been renewed for a season 3! WOO HOO!

…

Expand

Since it's a new show, I'm guessing there are going to be some future episodes to explain more about the characters, and I'm looking forward

Since it's a new show, I'm guessing there are going to be some future episodes to explain more about the characters, and I'm looking forward to each one. My husband loved the Sopranos, and we see a very small resemblance; east vs. west coast, Italian mob vs. Irish 'fixer', but at its most basic, a family man trying to cope and balance work and home. James Gandolfini played his part so well, and I see Liev Schreiber doing the same in this roll. I hope it stays around for a few seasons!

…

Expand

Ray Donovan is off to fantastic start. After an extremely entertaining first season. The only problems are that there are several characters

Ray Donovan is off to fantastic start. After an extremely entertaining first season. The only problems are that there are several characters that were introduced for a long period of time that seamed to disappear and the fact that their are some aspects that are very much like The Sopranos. The best aspect of this season was Voight's amazing performance as Mickey Donovan. I am certainly looking forward to seeing this show improve in its upcoming seasons.

…

Collapse

This show certainly has a lot of potential, and is by far one of the best new shows out there. But there are a few tonal and plot

This show certainly has a lot of potential, and is by far one of the best new shows out there. But there are a few tonal and plot inconsistencies. That being said, they are problems that are normal for a brand new show, and will likely be resolved in the coming episodes. I'll give Ray Donovan a chance, for now.

…

Expand

The show "Ray Donovan" commenced with some intrigue. It was an interesting look at a Hollywood problem solver. It was as if its audience was

The show "Ray Donovan" commenced with some intrigue. It was an interesting look at a Hollywood problem solver. It was as if its audience was getting an inside-look at someone who Hollywood wants to keep as incognito as possible and pretend they don't exist. However, the show quickly started disintegrate, emphasizing way too much on the feud between Donovan and his dad as well as Donovan's dysfunctional household. And that's when the show began to lose its distinction and began to develop itself into just another hackneyed drama series

…

Expand

The series got me at hello, super exciting , well acted. Jon Voight and Liev Schreiber are just fantastic, well done on the casting, Greta

The series got me at hello, super exciting , well acted. Jon Voight and Liev Schreiber are just fantastic, well done on the casting, Greta writing, each episode kept me so interested zincouldnt wait for the next one, love loved it! Must see:)

…

Expand