Network:

CBS

Series Premiere Date:

Jun 29, 2014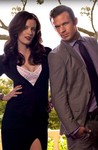 Creator:

Dana Stevens

Season 1 premiere date:

Jun 29, 2014

Episode Length:

60
Please enter your birth date to continue:
You are not allowed to view this material at this time.
The actors hit that soap sweet-spot between honest reality and lurid theatricality under direction from pros like Michael Apted and Catherine Hardwicke.

Fans of old-time network soaps may find something to enjoy here, but despite the promise that "dark secrets simmer behind every door and threaten to tarnish the genteel façade of seductive Charleston," Reckless is decidedly bland and evinces almost none of the sense of place CBS proclaims.

Reckless is executed competently enough, with everyone holding up his or her end of the bargain by being hot and trying to enliven the routine premises. But just about everyone in the cast has done better work elsewhere.

I don't dislike the show Reckless could be, and Gigandet and Wood are cute together ... But the pivotal case, in which many officers may have drugged and raped a colleague, demands to be taken seriously ... Switching back and forth to lighthearted flirtation feels terribly wrong.

The Southern-fried series too often skips courtroom drama in favor of forced sexual tension. [11 Jul 2014, p.65]

A summery crime-soap, just complicated enough to be diverting without taxing brains addled by the sun. ... I can't exactly recommend it, and yet I must admit I watched many more episodes than was strictly necessary to write this review.

Her love-hate relationship with a local good ol' boy lawyer (Cam Gigandet, "The O.C.") is one of many predictable plot points in this instantly forgettable summer soap.
Let's face it, this is a total chick show. CBS didn't really give it a lot of promotions (IMHO). I didn't even know it had started until it

Let's face it, this is a total chick show. CBS didn't really give it a lot of promotions (IMHO). I didn't even know it had started until it was well into the season. there's a lot of sexual tension and drama. It's a good show and for people who claim it's typical or boring or whatever need to go back to watching the typical boring law shows...this is a fun show. It doesn't hurt that Cam Gigandet is gorgeous either

…

Expand

This review contains spoilers, click expand to view. I loved the show, it is different from all the other shows, and it is nice to see fresh faces, more over the guys are very hot!

the people form small towns in USA must be empathic with this show, that is about what happen in small counties, where every body knows each other.
I enjoyed the show I hoped gets another season!!!

…

Expand

2/5★ Its soap with a procedural twist. The show has a largely female fan base drawn to the romantic tension between two appropriately

2/5★ Its soap with a procedural twist. The show has a largely female fan base drawn to the romantic tension between two appropriately attractive people. The acting is iffy, the setting doesn't pay off and the whole thing, taking into account how supposedly edgy the plot is, is rather bland.

…

Expand

The pilot was a mixed bag. I am not going to return for more episodes as there seems to be no legal or police consultants in this show at all.

The pilot was a mixed bag. I am not going to return for more episodes as there seems to be no legal or police consultants in this show at all. I am tempted to see the next episode just to see Terry, the corrupt cop, get slapped in the face again; but I shouldn't. It looks to be an unfunny fish-out-of-water kind of show mashed up with courtroom drama.

I now realized that the tone of the show is quite inconsistent throughout. There are three shows going on here: the "raw" realness of the corrupt police a la Southland, the light and fluffy romantic drama between the two leads, and then there's the boring courtroom letdown.

…

Expand