Network:

The CW

Series Premiere Date:

Oct 17, 2013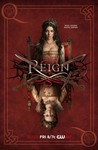 Starring:

Adelaide Kane

,

Craig Parker

,

Caitlin Stasey

Summary:

Set in the 16th century, this costume drama follows the (highly fictionalized) teenage years of Mary, Queen of Scots, played by Teen Wolf's Adelaide Kane.

Genre(s):

Drama

,

Fantasy
Season 1 premiere date:

Oct 17, 2013

Episode Length:

60
Please enter your birth date to watch this video:
You are not allowed to view this material at this time.
It's Pretty Little Liars meets Sofia Coppola's Marie Antoinette, and it's good, frothy fun. [18 Oct 2013, p.59]

The script by Laurie McCarthy and Stephanie SenGupta never finds a wholly convincing Venn diagram intersection between period piece and teen soap, but it also doesn't bother trying, hoping it can turn insane tonal shifts into a virtue by stepping on the gas. That this approach mostly works is thanks to their script being unafraid to unleash the crazy and the surprisingly beautiful direction from Brad Silberling, who makes the most of an Irish location shoot the rest of the series won't have the advantage of.

Soapy and silly this all may be, but immersion in the intrigue of Reign has its pleasures, not all of them from laughing at its absurdities.

Reign isn't half bad at times with its marvelous costumes, palace intrigues and Follows' delicious take on Catherine. But the minute you start getting into fantasy, you're yanked right out by the contemporary music and other oddities—like a montage of giggling gals putting on makeup.

Not that I think The CW has any grasp of the mental mojo that made its WB network predecessor such a pop-culture kick. Really? This twaddle? Every single week?

All told, the series--handsomely shot in Ireland--represents what amounts to a sleight-of-hand act--an attempt by CW to look like it's trying something different while really just churning out more of the same, albeit with more splendid settings and ornate costumes.

What The CW is doing here (and Kane perpetuates with her take on teenage girls and their intelligence) is approaching television with the perspective that the target audience is profoundly idiotic.
Best show on the CW and best new show of the fall. It's getting overlooked because it is pretty much the only thing on the CW that is not

Best show on the CW and best new show of the fall. It's getting overlooked because it is pretty much the only thing on the CW that is not based on popular YA books and doesn't have vampires. REIGN is mysterious, thrilling, dramatic, romantic and dark, and it should be at the top of your DVR. The cast is pretty spectacular as well, especially Adalaide Kane as Mary and Megan Follows as Catherine de Medici.

This show is the less R-rated (yet nowhere near PG) version of Game of Thrones, and I haven't seen a network drama go for it as hard as this one. Props to the writing staff and the network for doing something bold and original in the bland world that is broadcast television.

…

Expand

The advertising for this show greatly undersells it. This show is so much more than just another CW teeny-bopper love triangle. It is

The advertising for this show greatly undersells it. This show is so much more than just another CW teeny-bopper love triangle. It is complex, dark, thrilling and yes, heart-wrenching. Audiences should find this show because it will be a star in the darkness that is a uneventful fall for TV drama. Just make sure to keep this one on the air CW. Not all your shows are made alike, and in this case hopefully the rising tide will lift all ships.

…

Expand

Such a fun,well written,well acted , well produced series, it's fr sure one of mine favorites series ever , Adelaide Kane does wonders with

Such a fun,well written,well acted , well produced series, it's fr sure one of mine favorites series ever , Adelaide Kane does wonders with her caracther , If u are looking for an amazing show you should watch Reign

…

Expand

I love this show so so much! And i´m thinking of it all the time. It´s very romantic and mysterious. The costumes are very beautiful. Mary,

I love this show so so much! And i´m thinking of it all the time. It´s very romantic and mysterious. The costumes are very beautiful. Mary, Bash and Francis is so pretty

…

Expand

Great concept and can go a lot further. Get the future scripts right on this and it will go all the way. Apart from the obvious sexual tension

Great concept and can go a lot further. Get the future scripts right on this and it will go all the way. Apart from the obvious sexual tension between the lead actors, would like to see some more physical action by the boys and deeper political intrigue among the girls. Lets please see Mary and the French Queen get deeper into an emotional and psychological battle, with Mary maturing through the experiences. Love the music and reminds me of that great movie A Knights Tale that used modern retro to great efect. David Bowie's Golden Years being used in that partciular period piece was just perfect. Latly, would like to see some humour thrown in every now and then. Nothing adolescent but perhaps a few well placed humerous adult retorts. Get this one right and it will be quite enduring with a huge fan base.

…

Expand

First of all, this is not a historical show. It's loosely based on the story of Mary, Queen of the Scots who was engaged since childhood to

First of all, this is not a historical show. It's loosely based on the story of Mary, Queen of the Scots who was engaged since childhood to the future king of France. That said, the first episode is intriguing. The cinematography is beautiful. Costumes and sets are grandiose. I would definitely watch another episode.

My only gripe with the show is the music.. Too much of it, and it's just too loud in the mix! I don't mind that it's modern, but sometimes they play songs (with lyrics) on top of dialogues, which can be very distracting.

…

Expand

Horrible, such a let down as a period piece the costumes are nothing more than prom dresses mixed with claire's accessories and the accents

Horrible, such a let down as a period piece the costumes are nothing more than prom dresses mixed with claire's accessories and the accents horrible, they didn't even try. I tried to watch this but half way through the first episode they started dancing shoeless in the middle of a wedding ceremony as if dancing around a maypole. Ridiculous and the score is absurd any moments that you can become lost and begin to absorb the scenery and the cast is off put but some horrible distraction of noise pollution. The writers need to watch and TAKE NOTES the Borgias, Tudors, Elizabeth **** even Braveheart.

…

Expand