Network:

ABC

Series Premiere Date:

Mar 9, 2014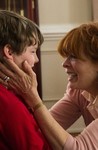 Starring:

Frances Fisher

,

Omar Epps

,

Kurtwood Smith

Summary:

The drama series based on the Jason Mott novel The Returned (not to be confused with the French series of the same name that aired on Sundance or A&E's upcoming adaption of the French show) follows the impact on the families in Arcadia, Missouri after an 8-year boy who supposedly drowned 30

The drama series based on the Jason Mott novel The Returned (not to be confused with the French series of the same name that aired on Sundance or A&E's upcoming adaption of the French show) follows the impact on the families in Arcadia, Missouri after an 8-year boy who supposedly drowned 30 years ago is found unchanged.

…

Expand

Genre(s):

Drama

,

Fantasy

,

Science Fiction
Season 1 premiere date:

Mar 9, 2014

Episode Length:

60
Please enter your birth date to watch this video:
You are not allowed to view this material at this time.
It's not as atmospheric and artful, nor does it exude the same visceral sense of place [as French series "Les Revenants"]. But taken on its own, it is an absorbing, well-paced, thoughtfully rendered production with a quality cast that ranks as one of the better new winter shows.

If less spookily atmospheric than SundanceTV's not-dissimilar The Returned, Resurrection handsomely frames its "What the hell?" premise. [7 Mar 2014, p.62]

Resurrection does something few dramas do today — it gives its characters breathing room to absorb and react to the fantastic in their lives, rather than forcing them to run from one plot point to another. Some will find this pace too leisurely.

When Resurrection focuses on Jacob and his family, the actors and the concept carry it. But hours must be filled, and the more the show expands to include other Arcadians, most of whom are tiresome, the weaker it becomes.

Looking long term, Resurrection may be one typical TV dark secret that takes a while to unravel, and maybe that's good enough for most. But it's cutting enough corners here in the beginning to be worrisome. And if you were lucky enough to see The Returned (or will be streaming it asap), then Resurrection won't be for you.

For a series with an out-there premise, Resurrection feels awfully ordinary.
I just love this series, its the closest they've come up to the x-files yet. Every episode starts good and gets better towards the end. No

I just love this series, its the closest they've come up to the x-files yet. Every episode starts good and gets better towards the end. No boring comedy or acting here. I just finished watching the end of season one...and cant wait for September to watch season 2, I just hope they don't cancel with a cliffhanger then...keep it up ABC!

…

Expand

FOR ANYONE INTERESTED IN WATCHING! This show is great and based on the novel "The Returned" by Jason Mott. This show has no correlation to the

FOR ANYONE INTERESTED IN WATCHING! This show is great and based on the novel "The Returned" by Jason Mott. This show has no correlation to the French show all the critics may claim. The only possible correlation is the Jason Mott was inspired by it, that is it. This will be and is a great series so far. I recommend watching it unless you have lost someone, since that will bring up too many memories.

…

Expand

A great show with an interesting premise.The acting, writing, and directing is pretty good, especially for a network tv drama, where the

A great show with an interesting premise.The acting, writing, and directing is pretty good, especially for a network tv drama, where the writing is cheesy (ex. NCIS). I can't wait for more!

…

Collapse

I have to admit , I am intrigued by each episode. I think it is beautifully written , and the show has me wondering if this is spiritual or

I have to admit , I am intrigued by each episode. I think it is beautifully written , and the show has me wondering if this is spiritual or possibly alien or government. Tho I am hoping, the outcome is supernatural.

I am hoping there is no one particular religion but just a concept on our existence. That These people were chosen for a mission of introduction to our creator or life after to prove it does exist. I hope in the end of this series that it doesn't just cut off without giving us answers. I hope they do research on those who have had experienced NDE and feed the minds of people like me who would love to see a positive supernatural outcome in life after.

…

Expand

Love this show. Every week that it is missing from the line up is a disappointment. Good character development, story line keeps evolving

Love this show. Every week that it is missing from the line up is a disappointment. Good character development, story line keeps evolving and has a long way to go. Hope this one lasts!

…

Expand

No tan buena, creo que su mayor problema es que vivirá en la sombra de Les Revenants, lo que no hace mas que dañarla aún porque está lejos de

No tan buena, creo que su mayor problema es que vivirá en la sombra de Les Revenants, lo que no hace mas que dañarla aún porque está lejos de llegar siquiera a tocarle los talones.
Para mi el principal problema es que el actor que interpreta al niño no es para nada creíble, menos mal que tiene pocas lineas porque si no dejaría mas en evidencia lo grande que el queda el papel.

…

Expand

I am in awe how bad this show is. I cannot figure out what the other reviewers were watching. The dialogue is laughable at times and the

I am in awe how bad this show is. I cannot figure out what the other reviewers were watching. The dialogue is laughable at times and the acting worse. The ONLY good thing about it was that it got me to find and watch The Returned from French CANAL network and Sundance. For that reason, i gave it one star. It would be easy to say that Resurrection pales in comparison to the Returned -- every real critic seems to agree. But comparisons aside, Resurrection is lifeless, boring and without soul. All the characters seem to be on mild sedatives - while rehearsing for a high school drama. I struggled to get through episode 4 hoping it would go somewhere. Its not. It is NO Lost, but is hopelessly lost.

…

Expand