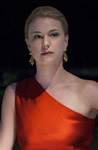 Summary:

Emily Thorne (Emily VanCamp) returns to the Hamptons to avenge her family against those who destroyed it.

Genre(s):

Drama
Show Type:

In Season

Season 1 premiere date:

Sep 21, 2011

Episode Length:

60

Air Time:

10:00 PM
The ABC drama is one of the best new series to hit TV this fall.

The arrival of one pure and unadulterated drama about a passion as old as man is something to celebrate. That's particularly true when that drama is as spellbinding in its satisfyingly gaudy way, as Revenge turns out to be.

They say Revenge is a dish best served cold, and here it's downright delicious.

For fans of soaps, there is reason for hope. The show looks great, and it often sounds good, particularly when Emily is delivering a line we know is nasty but her victim doesn't.

Way over the top but potentially a guilty pleasure for those with the time to pursue it.

If Revenge can curb its more outlandish tendencies, this soap could become a welcome guilty pleasure.

Some are embracing this as a juicy guilty pleasure, a return to Dynasty times by way of The Count of Monte Cristo. I found it all a bit predictable and thick, like I was choking on Crisco.
Best new show on TV! Every episode gets you more and more intrigued in its characters and in the story. Stowe and VanCamp are amazing!

Wends nights do not come fast enough for me. REVENGE!!!!

…

Expand

This review contains spoilers, click expand to view.

ABC's new show is great. It's got a big potential to accomplish. The acting - great, the plot - twisted, tense, amazing, and the writing is "subtle". The show is a guilty pleasure, filled with twist, a great tool to relax and enjoy the revenge that Emily makes upon her targets. Despite the fact that it's drama, it is sometimes funny. Madeleine Stowe acts just great, and Emily Van Camp is so suitable for her role as Emily Thorne. For me, it's like a drug. I'm very satisfied with it and I can't wait for the next episodes. ABC's got the lucky strike and mustn't stop doing this show, not that it's planning to.

…

Expand

Though Homeland is probably the best new show this season by normal standards, Revenge is definitely my favorite new show this season. It may

not be something critics will praise, but if you like semi-campy soapy TV, Revenge is the cream of the crop. It is as though someone put a lot of time and effort into crafting a well-written soap. Those two things are rarely found in the same television show, but Revenge pulls it off flawlessly. Highly recommended.

…

Expand

Revenge isn't an original concept (its based on The Count of Monte Cristo) but its a well built little show with a decent premise, a likeable

cast that clicks with the audience and a great misunderstood villain in Madeleine Stowe. The only true shame of the show is that Emily Vancamp is so thoroughly boring as Emily Thorne/Amanda Clarke). A great new show, just a shame about the choice of lead.

…

Expand

This review contains spoilers, click expand to view.

First, this show is nothing like The Count of Monte Cristo. But what we can easily detect about the real "surprise" plot - it is just way too obvious if you read between the loose lines - is that Nolan Ross is the person seeking revenge. He has set up every one of his moves (apparently, to get to the Initiative) and has been using Emily Thorne's survival skills to his own advantage. So now that we know the plot, there isn't much left except to know that the story just needs to keep going in the same soap opera direction with Nolan weaving his way deeper into the Initiative's bowels (or he may be the leader of the Initiative - that can be decided two minutes before the show's end) with a few reversals tossed in here and there all leading up to the supposed surprise reveal. And, let me guess, it will be revealed that one other character (not Emily) has been working along with him. Probably a male lover.

…

Expand
We've reached the end of another TV season, so it's time once again for our annual look at the best and worst shows. Find out which first-year series impressed critics and users the most, and see how the major networks compared.