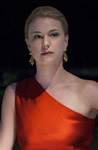 Summary:

Emily Thorne (Emily VanCamp) returns to the Hamptons to avenge her family against those who destroyed it.

Genre(s):

Drama
Show Type:

In Season

Season 1 premiere date:

Sep 21, 2011

Episode Length:

60

Air Time:

10:00 PM
The ABC drama is one of the best new series to hit TV this fall.

The arrival of one pure and unadulterated drama about a passion as old as man is something to celebrate. That's particularly true when that drama is as spellbinding in its satisfyingly gaudy way, as Revenge turns out to be.

They say Revenge is a dish best served cold, and here it's downright delicious.

For fans of soaps, there is reason for hope. The show looks great, and it often sounds good, particularly when Emily is delivering a line we know is nasty but her victim doesn't.

Way over the top but potentially a guilty pleasure for those with the time to pursue it.

If Revenge can curb its more outlandish tendencies, this soap could become a welcome guilty pleasure.

Some are embracing this as a juicy guilty pleasure, a return to Dynasty times by way of The Count of Monte Cristo. I found it all a bit predictable and thick, like I was choking on Crisco.
Best new show on TV! Every episode gets you more and more intrigued in its characters and in the story. Stowe and VanCamp are amazing!

Wends nights do not come fast enough for me. REVENGE!!!!

…

Expand

The best new show of 2011. Emily VanCamp does an AMAZING job playing Emily Thorne (Amanda Clarke). She can make little micro-expressions in

her face which, lets face it, not many actors and actresses can do. Each episode gets you more drawn into the series' characters and wanting to know what happens next. The show is really well written and the entire cast is really talented.

…

Expand

A bit of background - I rarely have time to watch TV through the week, but when I stumble on something that is really enjoyable I start to

record episodes to watch when I have time - but often these series get cancelled (Boston Legal, for example - a very, very clever example of writing and debating current topics) because the types of shows I find interesting apparently don't appeal to a broad audience... for example, I found absolutely nothing entertaining about Friends, but it lasted years - sorry to those who evidently supported it through all those years... it was so from clever it made the Flintstones seem sophisticated. (hmmm... I guess the Flintstones also lasted for years...)

When travelling last fall, one night at the hotel flipping channels and catching up on email I again stumbled onto initially what seemed like a visually interesting program - it turned out to be the pilot episode of Revenge part way through - the cloths and actors were great - all in shape, beautifully dressed. So I paused the channel flipping and went back to email - but the voices were clear and conveyed emotion without either yelling or fake laughter... and these voices didn't constantly repeat the same pitch over and over (see Friends). Finally, the voices became a real interruption for my email. (Believe me, I can work through most shows without interruption - but somehow in a hotel room, it's nice to have the TV on while working.)

Revenge is indeed a very clever show - but what makes it really work is the combination of the writing and superb directing - the actors/actresses are actually working their trade, much like stage productions. Each character truly expresses emotion - not slapstick stuff, but subtle conviction - and the sound recording is so well done, that you can actually hear these subtleties in their voices. Although I haven't seen all episodes this initial season (seems that my PVR didn't record many of them due to air-date scheduling changes), I do plan to buy the blue-ray so that I can watch them when I have time, without commercials.

I'm afraid though, that much like Boston Legal and other cleverly written shows, this one may not last as long as expected. I have suggested to some of my associates that they take a look - and unanimously, they say that it was a hard show to simply jump into mid-season and it sounds like they won't become fans of the show even though they all remarked how well it was filmed.

I suggest to the producers that they should strive to do two things - 1) re-run the first season as a marathon (say, every weekday at 9pm over a few weeks this summer) so that many that missed this 1st season can see the show and get captured by the power of the writing, and 2) price the season 1 blu-ray disk set at $10... get as many of these blu-ray sets out through retail before Season 2 launches - in this way, a broad audience will firmly form... assuming the top quality writing, acting, sound recording, and photography standards are maintained, this audience will become one of the most loyal any network can achieve in these media-competitive times. Revenge could then become a rare asset to the network.

…

Expand

Everyone should give this show a chance! I was so surprised by the quality, it started out as a guilty pleasure that I was unsure of but with

each episode I watched it kept on getting better and better. Along with Homeland, Once Upon a Time and American Horror story its the best TV drama of the year!

…

Expand

Love it! Emily VanCamp is awesome in her role, even though I prefer her in a "lighter" role. The actress really has embraced the more sinister

side of her character and I find it believable. I love the intrigue and mystery the show brings and the cast to back that up. I agree with some of the previous reviews that the theme/concept of the show is pretty fresh. I also agree that it is hard to see how this would extend into multiple seasons. Nevertheless, it is here now and I will enjoy it while it is. Truly a good show and cast.

…

Expand

It's certainly promising, but it has too be careful and not take itself too seriously, it's never going to be a great drama, more of a guilty

pleasure. I'm not sure how long they'll be able to stretch the storyline out for, what happens when they get up to the engagement party, obviously they will have something planned, but I can't see it lasting more than a season. It has the potential to be a very enjoyable season though.

…

Expand

This review contains spoilers, click expand to view.

First, this show is nothing like The Count of Monte Cristo. But what we can easily detect about the real "surprise" plot - it is just way too obvious if you read between the loose lines - is that Nolan Ross is the person seeking revenge. He has set up every one of his moves (apparently, to get to the Initiative) and has been using Emily Thorne's survival skills to his own advantage. So now that we know the plot, there isn't much left except to know that the story just needs to keep going in the same soap opera direction with Nolan weaving his way deeper into the Initiative's bowels (or he may be the leader of the Initiative - that can be decided two minutes before the show's end) with a few reversals tossed in here and there all leading up to the supposed surprise reveal. And, let me guess, it will be revealed that one other character (not Emily) has been working along with him. Probably a male lover.

…

Expand
We've reached the end of another TV season, so it's time once again for our annual look at the best and worst shows. Find out which first-year series impressed critics and users the most, and see how the major networks compared.