Network:

Adult Swim

Series Premiere Date:

Dec 2, 2013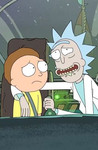 Starring:

Paul F. Tompkins

,

Sarah Chalke

,

Sarah Chalke

Summary:

The animated comedy from Dan Harmon and Justin Roiland follows the adventures of mad scientist Rick Sanchez (Justin Roiland), who returns after 20 years to live with his daughter (Sarah Chalke), her husband (Chris Parnell), and her children Morty (also voiced by Roiland) and Summer (Spencer

The animated comedy from Dan Harmon and Justin Roiland follows the adventures of mad scientist Rick Sanchez (Justin Roiland), who returns after 20 years to live with his daughter (Sarah Chalke), her husband (Chris Parnell), and her children Morty (also voiced by Roiland) and Summer (Spencer Grammer).

…

Expand

Genre(s):

Comedy

,

Animation
Please enter your birth date to watch this video:
You are not allowed to view this material at this time.
The animation, overseen by art director James McDermott, is fresh, colorful and as wacky as the script.

If the second episode can build even more on the insanity of the first, then Rick And Morty has the potential to be a versatile, entertaining comedy.

Rick and Morty won't get us any closer to a workable definition of Harmon's genius, but at least it clarifies that the unhinged quality that Community once had wasn't accidental.

Between the funny characters and the endless possibilities of worlds the two can visit, Rick and Morty has plenty of places to go.

In the golden age of narrative TV, cartoons offer countervailing subversive pleasures: They're juvenile, satiric, surreal. Those words all apply to the wild spree Rick and Morty. [23 Dec 2013]

Roiland and Harmon have put together a finely balanced show, with infinite possibilities that leave the door open for an exciting future.

While Rick and Morty isn't necessarily the stuff dreams are made of, in its buoyant flights of fancy, it does betray a welcome attempt to dream just a little bigger.
way better than your standard tv show. Rick 'n Morty are a lot of fun to share a few hours with. it's like a South

way better than your standard tv show. Rick 'n Morty are a lot of fun to share a few hours with. it's like a South Park/Futurama/Superjail/Twilight Zone cocktail, with just the right mix.

…

Expand

This show is simply charming, which is strange to say for a show that looks weird. The first episode of this show already has me hooked and I

This show is simply charming, which is strange to say for a show that looks weird. The first episode of this show already has me hooked and I cannot wait to see were Rick and Morty go next on their adventures. Granted, it may not be the funniest TV show, but funny nonetheless. Its charm and animation will be the major factors in reeling you in to watch, trust me. Like I said, I am already hooked just by the first episode, and if that does not show this shows impact, then I do not know what will.

Basically, if you watched and enjoyed the movie series "Back to the Future" and the TV show "Futurama," you should have no problem adjusting to and enjoying this show. The shows two main characters are Rick and Morty. Rick is Morty's grandfather whom is obsessed with science, drinking alcohol, and is seriously a fantastic nod to Doc Brown from "Back to the Future." Morty is Rick's grandson who is constantly dragged into Rick's experiments and adventures.

Overall, a fantastic, charming show!

…

Expand

Really fantastic show, wish i checked this out sooner, it is just as good as Futurama for me personally along with very smart episode that

Really fantastic show, wish i checked this out sooner, it is just as good as Futurama for me personally along with very smart episode that tuese animators come up, you will not be dissapointed

…

Expand

I saw this show back in 2013, and I tried it for about 5 minutes and then chucked it... I completely misunderstood it. Due to it looking like

I saw this show back in 2013, and I tried it for about 5 minutes and then chucked it... I completely misunderstood it. Due to it looking like SuperJail, which I tried as well and was turned off by the humor I assumed R&M had the same oddball humor... I was wrong completely wrong. On a whim, I gave R&M another shot, and I'm blown away. The writing for this show is too good, almost to the fault of the show's reputation of storylines. The first 2 episodes are somewhat general audience, and then it finds it's niche around episode 3. I was completely owned by this show at Robodog.. and then I was a superfan at MeSeeks. I can honestly say that this is my favorite show, of all times. I love the characters, the writing, the voice acting, and the art. I was scared that because it was an Adult Swim show that it wouldn't get appropriate love, and most importantly I was concerned that the creators would jump ship should something more lucrative would come (assuming Adult Swim with it's small audience couldn't provide wealth). I'm thrilled that season 2 is a go... although the Wikipedia states there is not much continuity I feel that there is just enough. I don't want to give anything away, I'll just say the writing is just perfect, and has the improv comedy is there as well which lends itself a sense of life.

…

Expand

This is probably the best, and most promising show to appear on adult swim in some time. It's fresh, exciting, and a very good show to watch

This is probably the best, and most promising show to appear on adult swim in some time. It's fresh, exciting, and a very good show to watch under the influence.

…

Collapse

The first episode of the show hit all the right points for me, it was funny, well written, was full of references, and had just the right

The first episode of the show hit all the right points for me, it was funny, well written, was full of references, and had just the right amount of absurdity to it. There are a lot of big sci-fi concepts here, and I hope they work out. One thing I will say it that I hope there are some overarching plot lines, largely because the "every episode is standalone" format only works for so long.
I think the show certainly has what it takes to stand with the likes of the other Adult Swim successes like: Robot Chicken, Frankenhole, China, IL, and Superjail. Only time will tell if it reaches the pinnacle of the channel; The Venture Bros. I'm excited to see where it goes.

…

Expand

Rick and Morty is the definition of hapless comedy and its a tragedy that it has warped thousands of innocent viewers into mindless slobbering

Rick and Morty is the definition of hapless comedy and its a tragedy that it has warped thousands of innocent viewers into mindless slobbering zombie fans. Fans and many critics say it's the greatest Sci-Fi TV show of all time, they couldn't be so wrong and stupid at the same time for it is nothing more and nothing less than a smoking rotten pile of dog crap. Fans like to say that the show has deep meaning and philosophical themes depicting the human condition, however in reality the show is not much different from Family Guy, considering that Rick is a giant ass with moments of a softer side but overall a self centered and unsympathetic jerk while Morty is just an average teenage boy with wild fantasies and a wavering sidekick who gets hurt often on their wacky misadventures. To be really honest, the show sometimes had it's funny quirks and occasional made me laugh at the right times. But ultimately it's comedy is just dick jokes, toilet humor, utter randomness, and large amounts of ultraviolence and bloody gore which get old very very quickly. People say the writing is clever and original, that might be true but the gas runs out faster than you think and its intelligent writing is just smelly garbage and feces in the form of a elegant flower. Rick and Morty is a show for tiny fanboys and critics with the minds of sponges who just follow the crowd with no real individual opinion. I liked it once, but now I pity it since it will fall into the bottomless trench of crude humor and awfulness. As the fans, critics, and staff members cry out for help in total desperation, I will look down and whisper "NO"

…

Expand